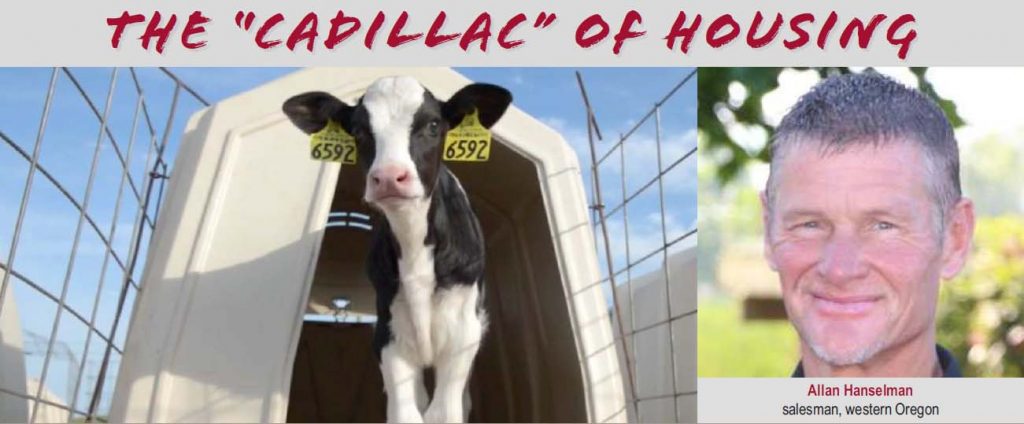 All West's Allan Hanselman believes there's a housing crisis, and it could be affecting you!  "One of the easiest things to neglect on a dairy is calf raising, and if you don't start your calves out on the right foot, they can't achieve their maximum potential as a milking animal!"
He's right, of course, and that's why it's exciting to offer All West customers the "Cadillac of calf housing" in our very popular Calf-Tel calf hutches.
"As a representative for Accelerated Genetics, I was excited to hear that we are the largest distributor for Calf-Tel.  That means there are a lot of A.I. salespeople who recognize the importance of great calf facilities.  It's pretty simple.  If you're spending top dollar for great genetics, then you should want to house those great genetics in the best possible facility.  In my early days working in New York for Dream Street Registered Holsteins, that most of the emphasis was put on caring for some of the most elite cows in the world.  But if we didn't pay attention to raising calves, we were losing our investment on genetics before they even entered the milking string."
Hanselman also talks to his customers in western Oregon and northern California about the benefits of disease prevention with hutches.  "Wood harbors diseases something terrible, so raising them in wooden hutches or wood-sided stalls is not ideal.  With Calf-Tel hutches, you can disinfect and power-wash between weanings and I've seen calf mortality decrease drastically with a housing switch.
"Calves like being outside, and with these hutches, they stay dry and warm.  As we are questioned more and more by animal rights groups, these hutches also provide plenty of space for calves to move and grow…even more than the specified 20 square feet per calf guideline."
"With more and more of my customers using sexed semen, I've noticed an increase of the need for calf hutches, which are an affordable, easy and versatile solution to the 'housing epidemic' on some dairies!  I bet I have close to 30% of my customers using Calf-Tel hutches, which represents nearly 75% of my cow population.
Calf-Tel, part of the Hampel Animal Care family, is based in Germantown, Wisconsin.  For over 35 years, they have been producing products that are built with comfort and biosecurity in mind, as well as peak ventilation.  Nearly 2 million calves are raised in Calf-Tel housing systems worldwide each year.
As winter is quickly approaching, now's the time to talk to your All West representative about Calf-Tel housing options that will protect your genetic investments.  From single-calf hutches to group housing and maternity pen options, there's definitely a "Cadillac" for every producer!
For more information, click here.