"When Bill Van de Graaf talks, people listen."
This was a common fact shared with us by colleagues and customers alike as we struggled to properly put in to words the legacy of Bill Van de Graaf.
Although he will officially become an All West Legacy team member on October 15, 2021, his legacy in the artificial insemination industry began long before he became part of the All West Family.
Bill attended A.I. school and began working as a herdsman at Cow Palace Dairy in Sunnyside, Washington in 1975. At the time, the dairy was milking 1,600 cows and Bill was kept very busy picking bulls for the dairy, mating each cow to the proper sire, and breeding the herd accordingly. This is where his true passion, for both the dairy industry and the A.I. industry, began and continued for 16 years in this important role for the farm.
All West Northwest Sales Administrator, Karl Krangnes, recalls, "Bill was the herdsman at Cow Palace when I met him over 35 years ago. Cow Palace was one of the biggest dairies in the area and was on our young sire program. I would visit to view the new two-year-old animals and look for young sire daughters to have professionally photographed. Bill knew every cow in the herd and was always willing to help find the cows we were looking for. I vividly remember him hurdling over the corral fences like there was nothing to it and saying, "That's her over there in the corner!"
Bill's intense curiosity and desire to solve problems, paired with years of experience on a commercial dairy, led him to become a member of the All West/Select Sires team in 1991, which he describes as "one of the best moves he made in his life". Bill started out as an evaluator and he continued mating cows for 15 years, before playing an integral role in the development and execution of two very successful Select Sires Inc. programs, Select Mating Service (SMS) and Select Reproductive Solutions (SRS).
Bill Van de Graaf in 1991
Select Sires Inc. Vice President of Dairy Cattle Breeding, Jeff Ziegler, shared, "Bill will always stay in my memories as one who wanted to truly understand the "why". I vividly remember training him on the SMS program. The questions flowed and the puzzle of how the program worked was visually clicking with each word spoken. Bill was a sponge. I knew Bill's background, managing a large herd and breeding more cows in a week than I have in a lifetime, yet he hung on every word I said. I was the one in awe, and our friendship and respect for one another took off from that very first encounter. Ever since, whether we're talking cows, grandkids, or golf, Bill's genuine heart and sincerity, even if it sounds like a wise crack, never stops. I have total respect for this man that wants nothing more than to always find ways to help others."
Helping people comes naturally to Bill, which led customers and colleagues alike to rely on his advice and assistance. In addition to his role as an evaluator and SMS/SRS Specialist, Bill assisted All West's team of professional A.I. technicians when needed. This addition to his duties prompted a change to his title yet again to his final role as Eastern Washington District Manager.
Retired Select Sires Inc. Vice President of Technical Services, Dr. Ray Nebel, confirmed, "Bill's experience with large herds and working as a large herd A.I. technician made him a tremendous resource for both All West and Select Sires Inc. It was with Bill's assistance that we initiated the SelectCheck A.I. Technician School in Sunnyside, WA in 2017. Without Bill's easy way of working with both producers and A.I. technicians, the SelectCheck School would not have been successful. To this date, approximately 350 Select Sires Federation A.I. technicians have attended one of these schools."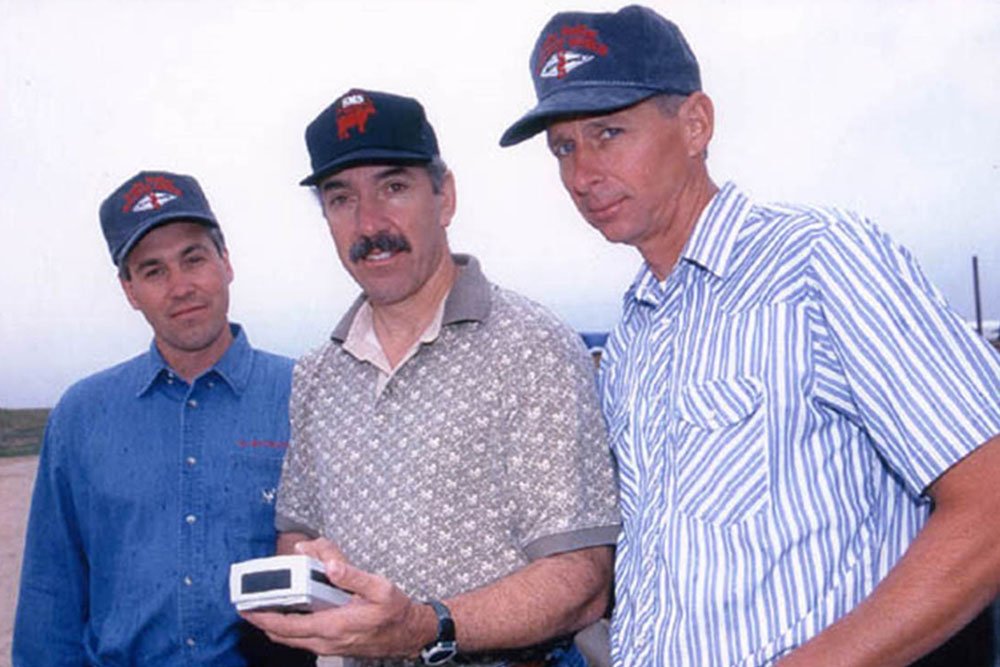 Rudy Kaderly, Bill Van de Graaf, and Fred Jorgensen in 1999
All West Dairy Program Specialist Randy Van Wieringen thanked Bill saying, "He is there any time I call with a question or a problem. He is always willing to help out and I sincerely appreciate his effort. I have always looked up to him and admired the way he handles things. It is evident by the amount of respect given to him from people within our industry, including veterinarians, customers, co-workers, and the Select Sires Inc. team in Ohio that he does things the right way. I am going to miss working with him."
Recently retired All West General Manager/CEO, Jim Wells, commented, "Bill has been a pioneer in the evolution of the All West focus on consultive services. Moving from SMS evaluations into the initial SRS Repro Analysis role in the Northwest, Bill set the bar for what our members could benefit from. That evolution continued as Bill brought the herd inventory program, Optimal Genetic Pathways (OGP), to our Northwest dairy producers."
"In addition to all of the consultive work, Bill managed and lead the Washington technician team for many years as it morphed from just a few technicians in to the large tech force we have today."
"Part of Bill's legacy will be the mentoring and training of the next generation of All West SRS and OGP specialists. His handprint runs deep throughout the entire All West organization. Bill has always been a key influential member of the management team and his advice, counsel, and input has been sought and valued by the General Managers of All West over the years."
Jim Wells and Bill Van de Graaf
Bill was so influential that he was named Select Mating Service (SMS) Specialist in 2003 and Select Reproductive Solutions (SRS) Specialist in 2008, making him the first person in the federation to receive both of these prestigious honors.
Select Sires Inc. Vice President of Semen Processing and Research Mel DeJarnette shared, "Bill is truly one of Select Sire's pioneers in large herd technician service and reproductive consulting. As Dave Whitlock would say, "Bill was SRS long before SRS was cool". As Program for Fertility Advancement (PFA) coordinator, I could always count on Bill to get large volumes of research semen in to herds, used promptly, recorded correctly, and reported back in a timely manner, which was an essential component of validating our proprietary extender formulation."
Retired Select Sires Inc. Marketing Manager Lon Peters recalls, "In 2003, at our Select Sires National Sales Conference, I presented Bill with the Select Sires National SMS Consultant Award. He received this for not only helping design breeding programs, but also providing repro analysis support. In his career, Bill did whatever he could to help his customers. He did this with enthusiasm, pride, and sincere dedication."
Bill admits that he never really considered his customers to be "customers" at all. "I consider them my friends", said Bill. "I would just assume spend time with my customers as much as anybody else. It's rewarding to me to be able to help them and spend time with them. It's been a good 30 years. The parts of this job I have liked the best are the customers that we work for. My customers became my friends."
Select Sires Inc. Vice President of Market Development Lyle Kruse, added, "Throughout his many years with All West/Select Sires, Bill has been directly involved with advising member-owners along with the All West/Select Sires sales and service teams at a very high level. His consulting work with customers has been a critical component to improvements in their genetics and reproductive management."
Over several decades in the business, Bill was able to witness a transformation of the dairy producers that he provided services to. He describes his visits with customers at the start of his career as being very "bull-focused" and recalls how his customers knew the bulls and were eager to research and compare their data alongside Bill to choose which sires were best for their herd. In today's industry, Bill has noticed that "the dairyman has become a businessman".
"They don't have time for the details. Instead, they want someone that they can trust to pick out the bulls and take charge of their genetic decision making. I have worked hard to develop that trust and most of them now say "Just take care of it." That, to me, is what has been rewarding; to work for my friends and really help their operations improve."
As Bill reflected on his over thirty-year career, he advised those who may just be starting a career in this industry to listen to their customers, also. "Find out what their goals are for the future of their dairy. We have enough flexibility in the tools that we have and the genetics and reproductive troubleshooting that we provide. If we simply listen to what they want, we can help them get to where they want to be."
Wise advice, such as this, is truly valued by those who know Bill. All West California Director of Sales Greg Collins may have said it best when he said, "When Bill Van de Graaf talks, people listen. That's what comes to mind when I think of how much Bill is respected amongst his co-workers and customers. He paved the way for Select Reproductive Solutions (SRS) at the local and national levels. I personally value his opinion and approach to expressing those opinions. Bill's influence will be missed by All West and the A.I. industry."
All West Central California District Manager, Cris Hatch, shared a similar description of Bill. "Bill is one of those guys that has never met a stranger. Over the years, I have been able to see Bill interact with people on farm, at conferences, and even in restaurants and bars, and he has an amazing way of making people feel comfortable. I know when he is servicing his customers, he is the same way. He uses his natural, friendly personality to become more than a salesman or service provider to his customers. He becomes their friend. With that, he always keeps his customer's best interest in mind."
"He did the same thing when dealing with his co-workers and the people that he hired and managed. Attending these events with Bill, I was also able to see how knowledgeable he is on so many different topics. He can talk bulls with the best of them, help with reproductive issues, or tell hilarious hunting and fishing stories from adventures he has been on with his friends and family."
All West team members Kit Watson, Brett Mackay, Bill Van de Graaf, Cris Hatch, and Greg Collins at the 2019 National Select Sires Inc. Select Reproductive Solutions Conference.
All West/Select Sires team members admire being part of Bill's beloved "extended family" and we appreciate the praise he has given his time with this cooperative.
"The support from Select Sires Inc. and All West/Select Sires has been fantastic," said Bill. "Any questions that I had, they would get right to me and give me an answer. I have a lot of respect for all of the people at Select Sires Inc., as well as my co-workers in All West Territory. It's just been a great group to work with and a fun job for me. What more could you ask for than to get paid for working with your friends every day? They made it easy to be successful."
Bill plans to continue the fun by spending his newfound free time doing more hunting, fishing, and golfing, bonding with his wife and grandchildren, and enjoying time on the lake.
Bill and Marsha Van de Graaf
Thank you, Bill, for over 30 years of passion, dedication, and friendship! We wish you and Marsha health, happiness, and many sunny days on the lake! Before you go, please read the wonderful comments below from your colleagues who were very eager to share their praise and well wishes.
"Bill Van de Graaf may have started as a business colleague, but I'm honored today to call him a true friend. Just hearing his voice on the phone brightens my day even from several thousand miles away. All West was a better organization thanks to Bill's talents, and so many Washington and Oregon dairy producers have successful herds thanks to all of Bill's advice. I have a feeling Bill won't just be riding into the sunset, but if he does, I know he'll answer his phone in a "how can I help" way. -Select Sires Inc. Vice President of Dairy Cattle Breeding, Jeff Ziegler
"Congratulations on your well-deserved retirement! It has been my pleasure to work with you and be a good friend during my time in supporting member sales and service activities for Select Sires. You are certainly a great example of the type of 'customer-first' person that Select Sires is known for, who is also an even better human being. Best wishes on a long and healthy retirement. I look forward to chances to join you on the golf course or some fishing in the future!" – Select Sires Inc. Vice President of Market Development Lyle Kruse
"It has been a pleasure to work with Bill over the last thirty years. I've always admired Bill's calm and pleasant demeanor and his ability to communicate that what sounds good in the textbooks may not always work so well in the field. You can always count on Bill for a few entertaining stories about family, work-life, hunting, fishing, or at least several new jokes. I wish Bill and family all the best for long, active, enjoyable, and well-deserved retirement." – Select Sires Inc. Vice President of Semen Processing and Research Mel DeJarnette
"Bill Van de Graaf is an exceptional individual that I looked up to and enjoyed working with during my fifteen years at Select Sires Inc. Bill's concern for producers, All West employees, and dairy industry personnel was second to none. I admired Bill's work-life balance of family and career. He many times put work first, but he always had his wife, kids, and now grandkids before anything else. I enjoyed my travels with Bill, from herd visits, technician meetings, and even golf outings. I will truly miss Bill and wish him only the best in retirement!" -Retired Select Sires Inc. Vice President of Technical Services, Dr. Ray Nebel
"I have known Bill for thirty plus years and no one deserves a long, happy retirement more than him. When I rode with him while he performed his responsibilities with All West, I concluded he was a "workaholic" and/or just "crazy". Now several years later, I am not sure I know the answer to that conclusion. I do feel it helps to be a little of both traits to perform at a very high level in this business, as he has. Bill, I wish you a long, healthy retirement of doing exactly what you wish. I imagine the fish and wild game are all nervous that you will have more time to enjoy outdoor activities. All the best, my friend!" – Retired Select Sires Inc. Marketing Manager, Lon Peters
"Congratulations on your retirement, Bill! It doesn't seem possible that you are retiring already. Even though I didn't have direct supervision of Bill's work, I certainly gained a lot of respect for him on the SMS team. He was always quiet and soft spoken, but when he did speak, others listened and learned from him. His ability to make sound decisions contributed directly to the overall success of the SMS program. I will always think of Bill as a nice guy who values his family and friends. Good luck in your next endeavors!" – Retired Select Sires Inc. Vice President of Dairy Sire Procurement, Ron Long
"Bill has been an outstanding employee since day one. He is a real cow man with an abundance of knowledge, expertise, and common sense. He has always been well liked and admired by his customers and co-workers alike. Congratulations, Bill, on your retirement." -Retired All West/Select Sires General Manager/CEO, Herald Catlin
"I just want to thank you for everything you have done over the last ten years. I hope you have a happy and healthy retirement, and that you get to spend a lot of time with Marsha and your children and grandchildren. I just feel sorry for the local coyote and duck population, as well as the trout population at Twin Lakes!" – All West Dairy Program Specialist, Randy Van Wieringen
"Bill's dedication to his customers and his team members is the driving force behind his success. He is always available to find options to make things work and he is not afraid to think outside of the box to get that done. It has been his dedication that has helped build his area in to a major component of our All West/Select Sires business. I will personally miss spending time with him at meetings, even if the accommodations were not what we were expecting. Thank You, Bill, for your time and your dedication to our team." – All West General Manager/CEO, Rory White