"As iron sharpens iron, so one man sharpens another." – Proverbs 27:17
All West California Director of Sales Greg Collins uses this verse to perfectly describe the immense growth that occurs each year at the Select Reproductive Solutions (SRS) Conference. This year, the conference was hosted by Premier Select Sires in Roanoke, Virginia with 89 highly-trained specialists in attendance from Select Sires' member organizations, World Wide Sires and industry partners.
The conference features educational training sessions led by SRS Specialists, Select Sires staff members and experts in the field of reproduction and nutrition, as well as on-farm training, to help our team fine-tune their skills in designing customized reproductive programs. Learning new technical skills is important, but Greg believes the most valuable part of this experience is what happens when knowledgeable individuals from 23 states, Canada, Italy, Germany and the Netherlands are gathered together.
"It's so valuable to gather with other reproductive specialists from across the country and around the world, who are like-minded in the sense of reproductive analysis, yet all have different approaches to coming up with solutions. Working together allows us to see things through the eyes of another and learn from how they look at the same situation in various ways. We only get better in repro analysis by attending these conferences, practicing our skills, and most importantly learning from each other," said Greg.
Cris Hatch with his winning RePRO Analysis challenge team members
Outside of the classroom, SRS specialists participate in the annual RePRO Analysis challenge. Attendees are split into small teams, asked to evaluate a herd's reproductive performance and then present their results to other conference attendees. This real−world experience allows SRS specialists to collaborate with their peers from around the world. This year, All West Central California District Manager Cris Hatch helped lead his team to victory and Greg Collins served as a contest judge. 
Cris admitted, "Competition was more difficult this year than in the past because the herd we were evaluating uses PCDART as their herd management software, and therefore we could only extract herd data from that resource to use in our analysis. It was a big challenge for me being less familiar with this software, but it's so important to our dairymen for us to be challenged in practice to continue developing our skills."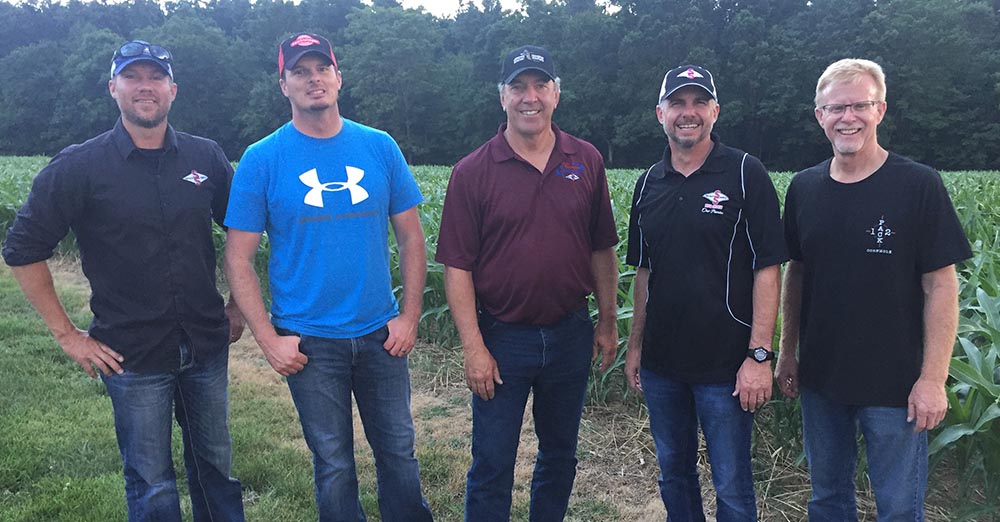 All West/Select Sires SRS team: Kit Watson, Brett Mackay, Bill Van de Graaf, Cris Hatch, and Greg Collins
Other All West attendees at this year's conference included Brett Mackay, Bill Van de Graaf, and Kit Watson… and this isn't your average group of team members. Not only are each of the five gentlemen professional SRS Specialists who serve in leadership roles within All West/Select Sires, almost all of them have been recognized at the national level for their achievements, too! Brett Mackay was awarded as the 2015 Activity System Specialist of the Year for his efforts in marketing and servicing CowManager systems in All West Territory. Bill Van de Graaf earned the title of SRS Specialist of the Year, followed by Cris Hatch receiving the honor in years past.
Greg Collins is the newest member of our team to be nationally recognized as the 2019 SRS Specialist of the Year. In his ten years as part of the All West Family, Greg has had a positive impact on the hiring and training of our technician force, become a trusted advisor to many dairy producers in northern California, and most recently, played an integral role in the creation and now implementation of our genetic audit service and new Optimal Genetic Pathways Calculator.
2019 SRS Specialist of the Year Greg Collins with Select Sires' Dr. Ray Nebel
"Greg has made outstanding contributions to recruitment, training and reproductive consulting at All West/Select Sires. His ability to develop and implement new strategies makes Greg a phenomenal team member," says Jim Wells, general manager of All West/Select Sires. "Most recently, Greg developed the Optimal Genetic Pathways calculator, a tool being utilized around the world. This calculator has changed the way dairies direct semen usage and manage herd inventory numbers."
Greg recalls the early days of his career when he was working for a different company in the A.I. industry. He would often tune in to hear Select Sires' Dr. Ray Nebel discuss reproductive topics on an agricultural radio station and was fascinated by Dr. Nebel's knowledge and the extensive training he had received from Select Sires. This opened Greg's mind to the potential of working for a cooperative that focused on continuous learning and today, he credits Dr. Nebel for being the first to spark his interest in working for All West/Select Sires. This admiration made Greg's recognition even sweeter, as Dr. Ray Nebel personally presented Greg with this coveted award.
"Over the course of my 38-year career, I've been recognized for my efforts in various ways, however if I had to chose one award to display on my wall, this would be it! Dr. Nebel is a very well-respected individual in our industry and to be able to work with a person I have admired for many years was special. This award is something I will always cherish!" said Greg.
Greg also noted Select Sires' King Smith as someone he has admired in the role of an SRS Specialist, and throughout their 29-year friendship in the industry. "It is fun to work with someone who is so like-minded, yet challenges you. When someone is struggling to come up with a solution, King is not going to simply give them the answer, but instead questions them and makes them discover the solution on their own. Working with King always sharpens my skills. He is a great resource to our entire SRS team."
All West attendees commented that the SRS specialist force is stronger and more talented than ever before as they continue to expand and refine their skillsets to bring the best in services and expertise to our member/owners. "My hope is that the younger generation coming in is encouraged to invest in educating themselves in this area. Select Reproductive Solutions is one of the best services we offer to our customers and I hope they realize how valuable it truly is," said Greg.
Congratulations on a very well-deserved recognition, Greg!
If you're seeking assistance from highly trained professionals who genuinely care about the success of your herd, look no further than the All West/Select Sires Select Reproductive Solutions (SRS) team! Contact your All West/Select Sires Representative to have an SRS Specialist create a customized approach to reproductive management at your dairy today.