Hello everyone! I hope that spring has sprung in the west!  With spring comes new sire summary information, so stay tuned to the Select Sires and AW/SS websites for the latest news!
A couple bulls I wanted to highlight this time are 7HO13250 JEDI and 7HO12600 MODESTY. Time moves at light speed in genetics these days and it seems like we just released these bulls.  But their first milking daughters are calving and the results are quite exciting.  Here is what I am seeing from these two breed leaders!
7HO13250 Jedi:  I have had the chance to see about 20 milking Jedi daughters and more every week!  They are not disappointing.  They have udders that look like his world famous dam, SSI Supersire Miri 8679-ET (VG-89).  While the udder depth is very good, they look like they're milking well and doing it with ease.  From a frame respect, I have seen two kinds; some that are tall and angular like Miri, and some that are more moderate sized and deeper, with stronger front-ends similar to a Montross pattern.  Either way, they are impressive for young heifers, many calving at 1-09 to 1-10.  From a foot and leg respect, he will definitely sire a straighter leg from the side but track straight ahead.  He will be a great fit on all the Planet blood in the breed.   Jedi will receive a production proof next week but will not have enough daughters to receive a type summary.  Early classification data, however, looks quite promising!

7HO12600 Modesty:  After seeing 10 fresh Modestys, he is doing exactly what we thought he was going to do; sire moderate sized cows with AWESOME udders.  Like his sire Pety, the first thing you see is an amazing udder with fantastic shape and great udder attachments.  They are not big cows, but for the producer who wants to moderate size, he will be perfect.  The other thing that has really impressed me is how free-moving they are on their feet and legs.  As cows, they are getting along fantastic in free stalls but will work in any environment.  It's very early, but I am very excited in what I see.  His daughters calved a bit later so he will not receive a summary in April but look for him to be at the top of the proven sire list in August.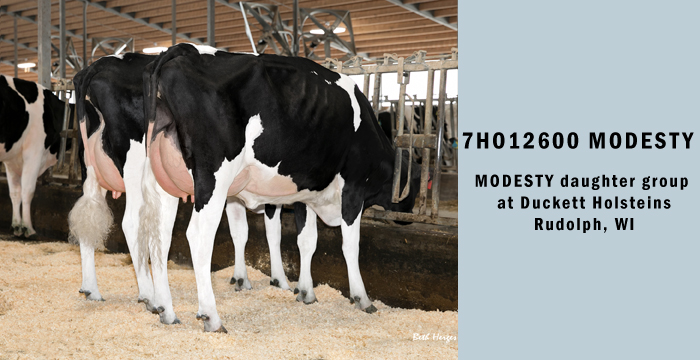 As always, we will have a very exciting list of new Super Samplers in April including 507HO13740 Rolan who will be the highest young bull in the breed with semen available as well as  507HO14195 Zeb and 507HO14063 Clete. These are all bulls we have used in sire development and will be bulls that will accelerate your genetics rapidly.
Thanks again for all of your support of Select Sires and I look forward to seeing many of you on my next trip to the west!