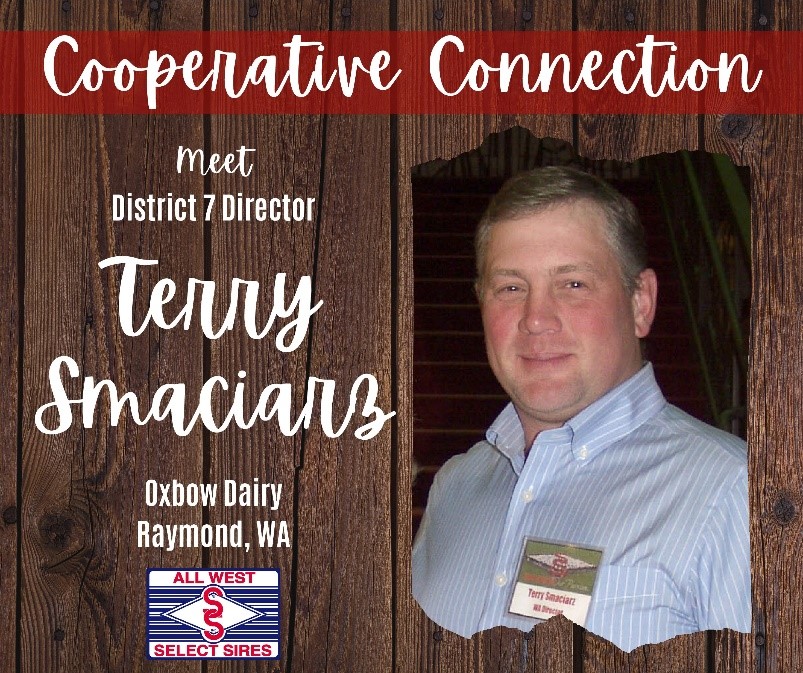 1. Tell us about your dairy. 
We farm in Raymond, Washington.  Oxbow Dairy milks a 300-cow herd, mostly Holsteins and about 50 Jerseys. We also raise all of our replacement heifers and make over 4,000 tons of grass silage.
2. How long have you been a member-owner of All West/Select Sires? 
We started farming 31 years ago when my father-in-law had health issues and was ready to retire. We are now the fourth generation on this dairy farm. My father-in-law, Dick Craig, was a member of All West/Select Sires and served as a director for his area for over 20 years. I have now been a Director for the past 30 years, since he retired. 
3. Why did you choose to serve in a leadership role for this cooperative?
This is a great co-op to be involved with, from the treatment of their employees to the service they provide for farmers.
4. What is your breeding philosophy?
When choosing bulls, I use the All West/Select Sires mating service. I am looking for the commercial milk cow that is medium-sized, has good feet and legs, and correct teat placement. 
5. Who is your all-time favorite Select Sires bull, past or present?
7HO5157 Regancrest Elton DURHAM was one of my favorite bulls.
6. How do you benefit from doing business with this cooperative?
We get a superior product in the sires that All West offers, plus tremendous support and service.
7. What is your favorite memory in your experience with All West/Select Sires?
The annual meeting is always a great memory. It is a highlight of my year, since I get to learn and converse with fellow farmers.