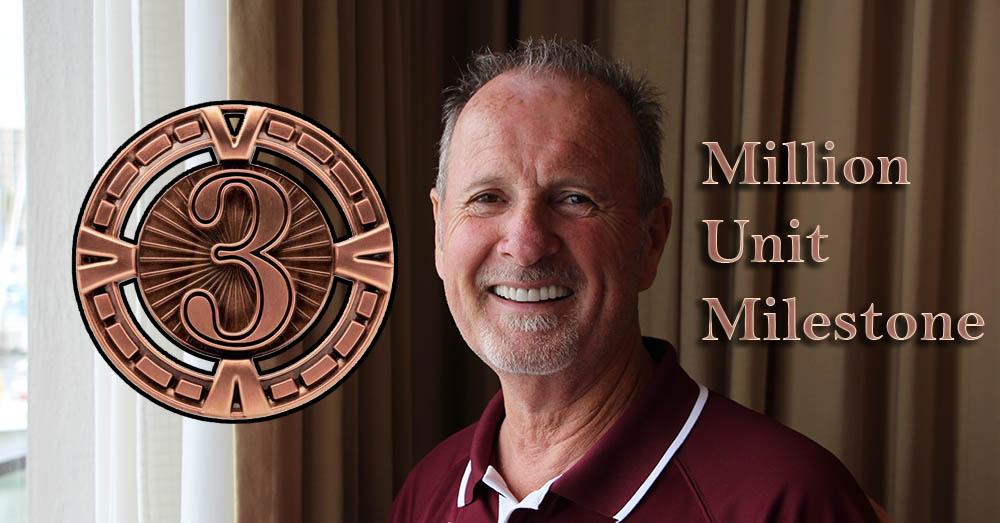 Temperatures and fireworks aren't the only things rising in All West Territory this month! Sales totals are sky high this 4th of July as All West Salesman Denis Curtin reached the huge milestone of 3 million units in career sales! As of May 31, 2018, Denis had sold a total of 3,004,036 units of Select Sires semen.
This success wasn't achieved overnight. In fact, Denis' career in the A.I. industry started back when he was 18-years-young in his homeland of Ireland. He grew up on a small farm alongside his five sisters, four brothers, and a herd of beef cattle, pigs, and other farm animals. At the time, very few people practiced A.I. themselves and most farms, including his family's, had an A.I. technician visit regularly to breed their livestock. Denis thought, "This guy seems to be a person who is really busy and always on the go and that's the type of person I am. What a great job that could be!"
After high school, Denis went to college for a short time, but realized he was eager to begin working full-time. His older brother was working as a technician and he decided to follow in his footsteps. "We were very well trained in Ireland and A.I. technicians were considered professionals," said Denis.  However, Ireland is mostly seasonal breeding, so that allowed technicians to take off in the winter. This also made the job rather unstable and most only considered it a short-term position. Denis spent four years breeding cattle from March to September, then was ready for his next adventure.
While throwing around ideas of what he wanted to do, one of his older sisters who was living in Chicago, Illinois, encouraged him to apply for United States citizenship and move to her new home. Chasing the "American dream" sounded exciting to Denis, so he began the two-year immigration process. His breakthrough finally came, and Denis arrived in Chicago on the day before Thanksgiving in 1977. "I had always wanted to see America and was so excited! Coming from Ireland, I had never celebrated Thanksgiving, but we went to a big, party and had a huge, traditional dinner. My first thought was, 'Wow! You guys eat very well over here!' It was all totally new to me."
He worked several different jobs in the city, but was never quite happy doing any of them. His fiancé at the time encouraged him to get back in to the industry he knew best and do something he was comfortable with and enjoyed doing in Ireland. He agreed to the idea and immediately called several A.I. companies seeking work, the last being Select Sires Inc. "They said they had opportunities all over America and simply asked me where I would like to go. I said, "I want to go somewhere where the weather is nice and the environment is exciting. Why not California?" At the time, before All West/Select Sires existed, the Select Sires Inc. distributor in California was Superior Sires and Denis was put in contact with the General Managers, Tom Olson and Lloyd Vierra.
In 1980, Denis made the trip to Turlock, CA, where the All West/Select Sires office is still located today, to interview with Tom and Lloyd. "That was an interesting interview. Apparently, I didn't impress Lloyd very well. He said I did not dress to impress and he reminds me of that to this day." Lloyd had some serious reservations in regards to hiring Denis, but was encouraged by Tom to give him a chance because of their desperate need for a salesman in the area… and we are sure glad he did! Denis was hired by Superior Sires in August 1980 and has sold over 3 million units of semen since then.
"It's amazing. I was blessed to be given the opportunity to get back in to the A.I. industry. It wasn't something I always wanted to do. I had already left that business behind in Ireland, but once in America I felt like it was the only thing I was really qualified to do. It has worked out extremely well for me."
Management today praises Denis, as well. Southern District Manager, Cris Hatch commented, "Denis knows how to keep the value in genetics. I know of more than one instance where he walked away from a sale because he was not going to underprice a quality bull. Denis has a way of using his Irish humor to create great relationships with his customers and coworkers alike and has always been easy to work with We have been blessed to have him as a team member and a leader in our company."
Denis looks back on his many years as a salesman and reflects on the lessons he has learned. "If I could give advice to less experienced salesmen starting their career in the A.I. industry, I would tell them you're going to have good days and bad days. You want to go out with the best intentions to make a big sale, but it might turn in to a disaster. Maybe you can't find the owner or he's in a bad mood or she doesn't need anything. Then you drive away dreading your next stop and that one might not go so well either. Remember, those bad days are also good. They're learning experiences."
He also advises new salesmen to get to know their customers. "Be observant of the mood they are in each particular day and let them lead the conversation. You have to gain their trust obviously. You have to respect them. You have to understand that they are under tremendous pressure, especially in today's dairy industry. The profit margin is very tight. You have to be able to read them well. Be aware of their time. Be professional. Know your product. See what they need. Walk away if they don't need anything. There is always tomorrow or next month. Relax."
From the start of his career in America to the end of May 2018 when he reached this achievement, the industry has changed tremendously. Even with many years of experience, Denis sometimes finds himself overwhelmed by the speed and amount of genetic information that is released every day and struggles to keep up with deciphering it all on a regular basis, but credits the younger generation of dairymen for being open-minded. "Young, progressive dairymen today are eager to implement new ideas. They trust their consultants. We're interested in improving their business obviously. We're not just there to drop off semen and leave, we enjoy advising them and it is beneficial for us, them, and the industry as a whole. The younger generation is so smart. They're willing to challenge themselves and try new things and give new technology a chance to work."
In regards to surpassing the 3 Million Unit sales goal, Denis admits, "I didn't necessarily set out to reach this goal, it just happened. It's a great accomplishment, but I had a lot of help achieving it, especially in recent years. Mike Parreira has helped me greatly in reaching this sales achievement. The last several years he has picked up quite a bit of business which I give him tremendous credit for."
Denis has many more people to thank for helping him achieve this success. "Primarily, I would like to thank Tom Olson and Lloyd Vierra who gave me the opportunity to get my foot in the door in the A.I. industry here in America. Without them, I would not have gotten here. Although Lloyd and I didn't start off so well, I got to know him over the years. He is a tremendous fellow. He always had words of encouragement and positive feedback. He even made efforts to find work for me and help me pick up more clients. I am extremely grateful to him for what he has done for me."
Denis also credits Bill Genasci, former Manager of California Operations, for his dedication to the team.  "It was a tremendous experience working with Bill.  He was always happy, always working to keep the group functioning together, and always helping when we got ourselves into a jam!"  Denis has also leaned heavily on the only other salesman to have reached the 3 million unit goal before him, All West's Allan Cossentine. When he started with Superior Sires, Denis would ride along with Allan to train and learn from him. "I would fill his nitrogen tanks and observe how he sold. He was very smooth, very professional and a great mentor to learn from. We had a great time riding together."
Most importantly, Denis thanks his loyal customers. "My relationship with my customers is excellent. I have a really good rapport with them. I feel that they deserve professionalism and a team member who understands what they're needing. We are blessed that we, as All West salespeople, can come to our customers with superior products and services!  We have the privilege of working with our customers face to face and as a result get the opportunity to develop great relationships with them, on a personal level and a professional level. I have customers who invite me to family functions, birthday parties, and weddings. They are absolutely terrific people and I have been delighted to have had the opportunity to serve them."
On a more personal level, Denis thanks his ex-wife for nudging him back in to the A.I. industry and encouraging him to chance his American dream. He would also like to thank his two daughters and seven grandchildren for their constant support. His daughter, Erin, is a high school teacher in Fresno, CA, while living in Coarsegold, CA alongside her husband and three children and his other daughter, Lindsey, is a youth program coordinator at a large church in Colorado Springs, CO with her husband and four children.
So, what's next for a salesman who has achieved such a great milestone? There is no slowing down our favorite Irish man! When Denis is not selling semen, he loves to spend his time in the great outdoors and can be found camping with his daughters and grandchildren, boating and water skiing on the lake, off roading in his Jeep in high country, and traveling to Ireland and England to visit his many siblings.
With some of the greatest goals achieved and so many years experienced, why not retire now? Denis admits that he actually looks forward to going to work on Mondays. "If I sit too long, I get bored!"
On a more serious note, Denis truly loves being part of the All West family! "Words cannot describe how fantastic working for All West/Select Sires is. Our senior staff are constantly giving us positive reinforcement for our efforts and allowing us the freedom to do our work without feeling pressured. It is a unique work environment."
Denis may have already found his pot of gold here in All West Territory, but will continue to live the American dream and service All West herds for as long as he can. We are extremely grateful for all he has done for All West/Select Sires and have no doubt that this Irish firework will continue to skyrocket up to the next million unit goal.