In WASHINGTON…
Congratulations to All West customers Coldstream Dairy (Jeff Rainey and Galen Smith) of Deming, on receiving honors from the from the Dairy Cattle Reproduction Council (DCRC). Coldstream was awarded a Silver Award in the Repro Awards division, which is the top level in the program. There are only six herds across the country that have received this honor! The folks from Coldstream will be recognized at the Dairy Cattle Reproduction Council Meeting in Buffalo, NY, Nov. 12-13. (Pictured above is All West salesman Larry Nootenboom visiting with Galen Smith at the dairy).
Out on the town!  Washington juniors took in the sights of World Dairy Expo this year, led by chaperone Joanne Odens!  Luke Wolfisberg is joined by Rebecca Van Ess, Amanda Lynn Howe and Karibeth Engelsma.
In OREGON…

Curtis Gomes of Tillamook poses with three 7JE1151 GALVANIZE daughters!

Fir-Ridge Brn Sunny 7080-TW (VG-88), is sired by 7HO8747 BRONCO and owned by the Ruby family of Scio.  More congratulations are in order for the Rubys.  Matt Ruby won the senior division and grand prize award from Holstein Association USA in the 2015 Junior Mating Contest!  Way to go Matt!
In CALIFORNIA…
Quite the "udder show" at Paulo-Bro Dairy in Hanford, CA!
All West's Communications Manager, Karen Knutsen, was elected to the National Dairy Shrine Board in September.  The Board, now led by new president David Pierson, Lake City, MN, held their 66th annual meeting during World Dairy Expo in Madison, WI. At the annual banquet, over $60,000 in scholarships and awards were awarded to 47 outstanding young people. This year's National Dairy Shrine Awards banquet was attended by 350 Dairy Shrine members, dairy leaders, friends and relatives.  Pictured above are Board Members Gail Yeiser, MD; Leah Ziemba, WI; Dan Bernick, IA; Nate Janssen, IL; Fowler Branstetter, KY; Past President Fred Hendricks, OH; Marci Walker, WI; President David Pierson, MN; Karen Knutsen, CA; Stan Henderson, CA; Vice President Alicia Lamb, NY; Jim Dickrell, MN; Executive Director David Selner, WI and Blaine Crosser, OH.  (For more information, visit www.dairyshrine.org)
From the land down under!   A fun-loving group of Australian dairy farmers made the trek to World Dairy Expo this year, and then traveled to California for some herd visits, sightseeing and more.  We were happy to have them stop by the All West office in Turlock, CA, during their adventure!
Ahlem Farms Partnership, Hilmar, CA, received the prestigious Distinguished Breeder Award presented by the National Dairy Shrine at World Dairy Expo. Congratulations to the Ahlem family their crew!
World Dairy Expo success for California junior exhibitor Christian Cunningham of Penngrove, CA.  Christian is on the right with his Intermediate Champion of the International Junior Holstein Show, Silvermaple Windham Camille-ET, 1st Sr. 2-year-old.  He's joined by the HM Intermediate Champion (far left), Siemers Braxton Marabel-ET, and Res. Intermediate Champion, Ms Tara GC Tahiti-ET.  It was a Select Sires sweep – WINDHAMMER, GOLD CHIP and BRAXTON!  #connectto7
You had to see it to believe it!  Pictured here is the absolutely amazing class of Sr. 2-year-olds at the International Holstein Show in Madison, WI.  It was another sweep for Select Sires as the top three animals were sired by DEMPSEY, WINDHAMMER and GOLD CHIP, and they're on the far right of this lineup.  The best news of all?  Two of the top three were from All West territory!  1-Co-Vale DEMPSEY Dina 4270; 2-Silvermaple WINDHAMMER Camille owned by Californian Christian Cunningham; and 3-Dinomi G-CHIP May 9609 owned by Californian Robert Teixeira and partner Nate Goldenberg.
…here's a closer view of the top three finishers in the Sr. 2-year-old class…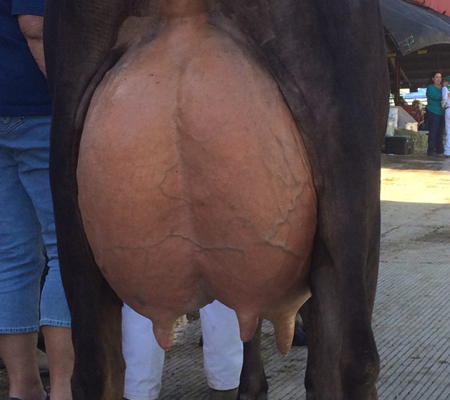 Grace Wilbur's 7JE860 ECLIPES-P daughter at the Tulare Fair!
For daily updates with what's new "Around All West" be sure to check out our Facebook and Instagram pages!