As a journalist, every once in a while you land upon a story that is way more than you bargained for.  That either means the subject doesn't have as much "meat" as you had hoped and the story is a flop, or that means it's way bigger than you initially thought and you can't wait to get it captured on paper.
Fortunately, for readers of DiamondCuts, it's the latter that happened when I first started thinking about a TMK story.  I visit TMK Creamery in 2017 when riding with All West salesman Matt Jansen.  We had to drop off semen at the small, western Oregon dairy, and instead of just a routine delivery stop, we ran into Marc Koch.  Being the avid cow-man, Marc was willing and able to take us through all the cows and talk about pedigrees, sire choices, classifications and more.  After the herd tour, he showed Matt and I into the new cheese plant, TMK Creamery, that was nearly finished with construction.  The cheese, all made from milk produced right at the dairy, would be sold and served in a brand new tasting/retail room.  That part wasn't quite finished yet, but as I followed TMK on their Facebook page in the following months, I saw their retail space and their business was not only completed and open to the public, but it was also extremely worthy of a bigger story.
What makes a dairy family choose to go down the cheese making avenue?  Is that something everyone should be considering?  What was the process in developing this into a viable business?
As TMK Creamery celebrates one year of business, we decided to get the full story behind the Koch's operation and have them answer some of those questions.  We think you'll enjoy learning about this journey as much as we did!
Having visited the farm and creamery just a year earlier, I thought it might be possible to send some questions to the Koch family and find out their story over the phone.  I didn't bargain for a fun-filled, hour-long conversation with Todd and Tessa Koch as they were driving.  It was just like being in the vehicle with them, and their enthusiasm is one that definitely carried through the phone lines!
"Our whole dairy started as a 4-H project," explained Todd Koch.  "We're actually first-generation dairy farmers.  I bought my first registered Holstein heifer at the age of 12, and my herd grew from there.  Both my brother, Marc, and sister, Shauna, were also in 4-H and FFA and as a result, we now have about 20 milking animals that include three breeds, Holstein, Jersey and Brown Swiss.  Everything is registered, and we've been milking here for about 20 years."  While the dairy is located in Canby, Oregon, the Kochs also farm ~800 acres near Klamath Falls, which consists of alfalfa and grass hay production, and 150 head of beef cattle.
TMK Creamery is a family business from start to finish!  Pictured are (from left):  Todd Koch, Shauna Garza, Marc Koch and Tama Willis (Shauna's son).
"With the dairy, we've always had a focus on components, along with health traits.  Our main goal is creating a cow that makes the population better.  It's a little subjective, of course, and what we think is better is just…our opinion.  But a better cow, in our definition, is one that's easy to maintain, trouble-free and breeds back fast.  We're also now focused on the polled gene as that will be more and more important going forward, and we're paying attention to the A2A2 market.  Type-wise, we certainly like cows who are easy on the eye, and we put a big focus on udder quality and phenotypic udder traits."  That focus shows as you walk through the pens and see some exceptional cows.  Todd and Tessa both agreed that to have a retail operation as they do, having cows that are phenotypically correct, well cared for, and clean, is tremendously important for public perception of food quality.
Because the Kochs are first-generation cheese plant operators too, they admit that it's both an advantage and disadvantage at the same time when starting out in the business.  "You're new to it all and trying to find your way, so sometimes you feel as though you're reinventing the wheel, and other times you feel like trying to do things different 'just because,'" said Tessa.  "We sat down and lined out our advantages of being small, and there were many, and designed the business model taking all of that into account."
"Four years ago, we were at a crossroads with the farm.  We tossed around some ideas with my siblings and actually sat down to hash some ideas out.  My sister wanted to make cheese, and wanted to grow from her tiny, in-house work into a full-fledged creamery.  So we started exploring that avenue.  She was so excited about it, and the idea of making this into a family business, we couldn't help but get excited too!  She started taking milk to Oregon  State University's pilot plant, where she learned recipes and the plant process.  We started doing some research on building permits and market research (ie what would this community support), and what the creamery would look like."
From there, the plan took shape and now when you're visiting TMK, you can walk from the barn to the tasting room and actually see where your product ingredients come from.  The Kochs wanted to build this business and continue learning and developing themselves as stewards of their cows and the dairy industry.  But as they learned, they shared.  Shauna spent months learning all about food safety, and studying at the Food Innovation Center in Portland.  This was crucial in developing cheese recipes that people would buy.  "You need to really understand what tastes good to people," Tessa explained.  "Shauna learned a lot about what flavors people wanted, and that was critical in getting the initial attraction to our business and products.  We started with a basic aged cheddar, and from there you can build into new flavors.  We've had the opportunity to have students from the Oregon Culinary Institute come here and train.  Instead of just making the cheese, they start at the very beginning.  We teach them how to milk a cow, we teach them what farmers look at for milk quality (and why), we teach them how to care for the milk after it comes out of the cow…they understand and experience the entire process.  Even the professors learned a lot!"
"That was super interesting for us, and a great way to connect to your customers.  With having a small creamery, we realized we wanted (and had) to do something more, so that consumers and customers got the entire experience.  And suddenly, we had the platform available to show that the dairy industry isn't the "bad guy" anymore.  We have cows that are tremendous ambassadors for our industry, and we care greatly about each of them.  Now the public can care about them too!"
What happens when you open yourself to the public?  Will it be harmful?  If the dairy industry is always getting a bad wrap, why don't we be the ones who change that?  We value transparency, compassion and passion.  We've got no proprietary secrets on our hay, dairy, cheese or beef programs.  If you have a question, please come and visit us so we can show you our love of cows in person. ~Tessa Koch, TMK Creamery

TMK just celebrated their one-year anniversary of selling cheese, and so it's an appropriate time for the family to evaluate things from the 30,000 foot perspective.  What did they do right?  What would they have improved?  What lessons can they pass along?  "While we're celebrating a one-year anniversary of our retail business, this is actually our fourth year of working on this project," explained Todd.  "Be patient.  We learned it's not always going to turn out like you expect, and that's not a bad thing.  You might think you're going one direction, but you need to be flexible and realize that you'll run into things you're not prepared for.  It's actually humbling to realize how little you know sometimes!"
Something that both Todd and Tessa agreed with is that they're fortunate that the whole family, including themselves, Marc, Shauna and Shauna's husband, Bert, are extremely passionate and committed to the business.  "As young producers with a super small herd, we battle economics and size in every facet of the business.  By creating an end-product for the consumer, we can now develop our own story.  This gives us a lot more flexibility in our bottom line.  We've always thought it would be cool to be directly involved with the consumer.  With our beef division, we've always selected for carcass quality, so we can create the meat that we think is good.  With the dairy, we select for components so that our cheese product is good.  We think this gives TMK more of a lifestyle brand of quality…a brand you can trust."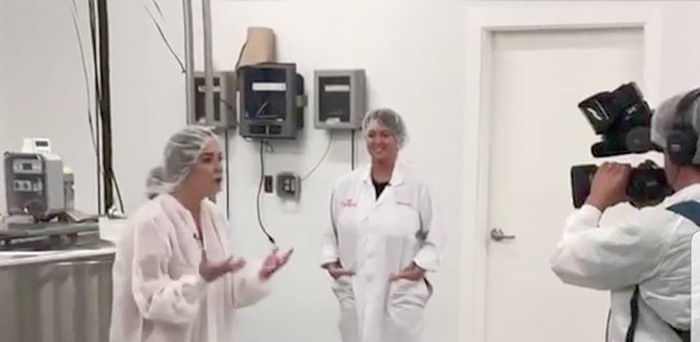 Cheesemaker Shauna talks to the cameraman during an interview with Portland News Channel 2

If they could give advice to others contemplating a diversified business on their dairy, the Kochs emphasized that an understanding of market cycles is key, as well as a thorough understanding of the industry you're in.  It may sound basic, but it wasn't overlooked as TMK got up and running.  "You need to understand what decisions are being made before arriving at the store," said Tessa.  "Who buys?  Why do they buy?  Why are farm to fork venues a big deal?  Why did the culture change?  People are looking for a clean, trustworthy product, so can I create that for them in my own venue?  And maybe most importantly, can I listen to our customers to learn….instead of listening to respond.  Consumers are going to have questions.  They're going to want to get to know you."
Todd agreed.  "You've got to get comfortable with being uncomfortable.  Challenge the norm.  People love animals, and watching them respond to the cows is so very cool.  It's easier to show them then to tell them.  Come and see our operation.  Come and ask us questions.  That's how trust is built.  When people come to TMK, we want them to have a real experience above all, and sometimes real decisions have to be made on the dairy.  So far, we've found that by being honest about what we do and why we do it, customers feel more comfortable with our business and our products."
So what does the future of TMK Creamery look like?  Being close to Portland and its foodie population, is a great opportunity for the Koch family.  They've started developing "Cowlebrities" in their brands, featuring a single-cow cheese. This concept promotes three of the cowlebrities in the existing herd and allows these cows to have their own marketing platform to the public; which should bode well in the local Portland restaurants that are celebrating the "know your farmer" campaigns.  It also gives a certain personal flair to their products that grocery store chains can't provide.
Above all, the Kochs are committed to bridging the rural/urban gap of understanding and being a strong community resource.  "We have to admit that this entire project, the dairy and the creamery, has been a huge blessing to our family.  We get to spend our days doing what we love, working in an industry that we love, and sharing that passion with people from all walks of life.  We're thankful for those opportunities every day," said Tessa.
Tell the story.  Create the experience.  Develop your brand (and place) within the dairy industry.  Long live the cheesemakers of Canby, Oregon!
For more information on TMK Creamery, please visit their website, https://tmkcreamery.com or follow them on Facebook/Instagram.