Clifford Bailey
August 7, 1926 – May 29, 2021
It is with great sadness that we share the passing of All West/Select Sires' first president, Mr. Cliff Bailey. Cliff was not only an amazing leader and wonderful friend to All West, he was also a wealth of knowledge about the history of our cooperative.
Cliff Bailey was elected President of Evergreen Northwest Breeders Executive Committee at the 1962 Annual Meeting. During Cliff's time as president from 1962 -1976 there would be mergers with Oregon Dairy Breeders (1964), Western Montana Dairy Breeders (1964), California Dairy Breeders (1965) and finally with Select Sires (1976). Cliff was instrumental in these early mergers and is remembered for his famous "The Wolves Are At The Door" speech, presented at 1976 All West Annual Meeting prior to joining forces with Select Sires Inc.
In our 2016 interview with him, in honor of our 2021 All West 75th Anniversary, Cliff shared, "I was ready to do something at that time because we didn't want to see All West fail. I knew that we had to bring our forces together and we had to lay it out straight to the board of directors. And we did and we worked hard and it worked out."
One of the most memorable parts of his speech read, "There are times to be eloquent and times to be blunt. There are times that try our souls. There are times to listen and there are times for action. We find ourselves beyond the crossroad. The wolves are howling at the door."
Cliff passed away peacefully at home on his family farm, where he lived his entire life near the All West Washington headquarters office and warehouse. Many of the decisions he made, the values he held, and the people he inspired are what made All West/Select Sires what it is today and his legacy will live on in our cooperative forever.
Cliff Bailey giving his inspiring speech at the 1976 Annual Meeting.
To learn more about Cliff's legacy, please click here to watch our video interview with him in 2016, in honor of All West's 75th Anniversary.
Cliff Bailey with the 1964 All West Breeders Directors and Voting Delegates.
Elmer Meadows, Guernsey Fieldman, congratulates All West Breeders as Western Glow Darimost becomes a Gold Star Sire in 1968.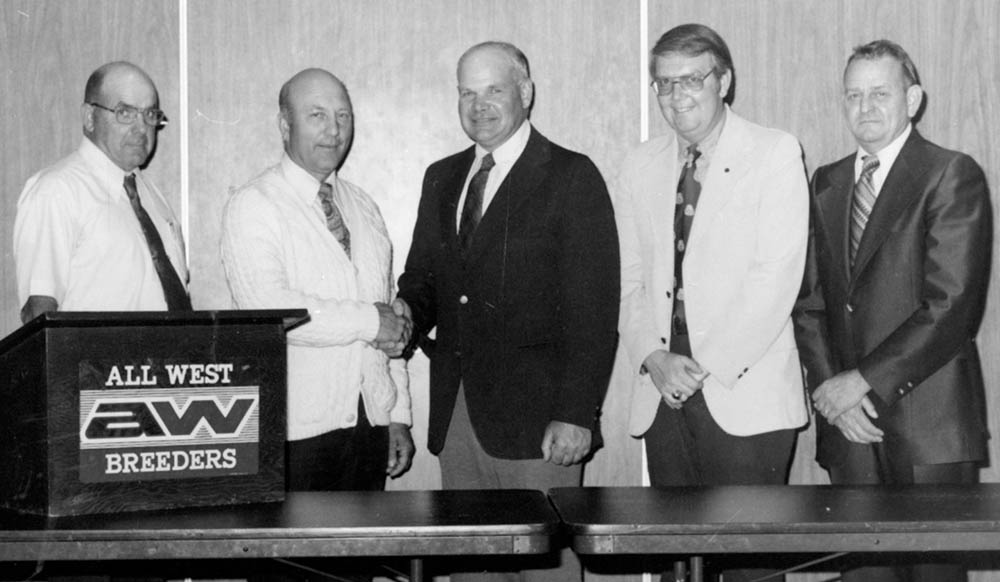 Leonard Frame, Jack Dendel, Cliff Bailey, Richard Chichester, and Archie Nelson in agreement to purchase Select Sires stock in 1975.
Cliff Bailey with the 1976 All West Breeders Executive Committee.
You can read Cliff's official obituary below, shared by HeraldNet via Legacy.com.
Cliff Bailey, 94, passed away peacefully at home on the family farm in Snohomish where he lived his entire life. He leaves behind his wife of 74 years, Rosemary, his sons Dan and Don, 9 grandchildren, and 6 great-grandchildren. He is also survived by his sister, Ellen Snow. He was preceded in death by his sister Shirley Schick and son David.
Cliff was born to Earle and Flossie Bailey in 1926 and grew up on the family dairy and crop farm. He graduated from Snohomish High School in 1944. He was active in FFA in high school and was the Washington State FFA President in 1943. He married his high school sweetheart, Rosemary, in 1946. They raised 3 sons on the farm.
Besides milking cows at 4 in the morning for 20 years, Cliff was active in the National FFA, the Washington State Holstein Association, All West Breeders, and he served 9 years on the National Holstein Board of Directors. He also served on the Snohomish School Board, the state prison vocational board, and was a member of the Snohomish First Presyterian Church.
In the early 1980s when his sons took over more of the farm duties, he served on the Snohomish County Council for 4 years and then moved on to the Washington State Senate where he served for 8 years. In the early 1990s he moved on to serve as Chairman of Compass Health for 10 years.
In his public service he focused on farmland preservation, school funding, and mental health. He was a devoted family man and always had a positive word of encouragement to his children grandchildren. Cliff and Rosemary always cheerfully hosted frequent family gatherings. They loved to garden together and loved to travel.
Cliff was never too busy to help a family member or friend in need. He was the same man whether he was talking to a fellow farmer, or as State Senator, or to his kids and grandkids. His positive attitude and his friendly and loving ways will be missed by all who knew him. His smile, the twinkle in his eye, and his love for the land will live on in our hearts forever.