Fred John Visser
 June 23, 1955 – June 23, 2021
Our sincere condolences to the family of past All West/Select Sires Delegate and Director, Fred Visser, who passed away on June 23, 2021 at age 66.
Fred moved his family and cows multiple times in his decades in the dairy business, starting in California, then moving to Oregon, and eventually calling the state of Washington home. One common denominator of the Visser dairy was that wherever Fred took them, he did business with All West. "The All West people are just great to work with," he once said. "Everywhere I've went, All West has been there with just real good service and real good supportive people."
Fred not only supported All West through his patronage, he also served as both a Delegate and Director of All West/Select Sires in multiple states from 2001-2008. Over decades of dairying throughout All West Territory, Fred was known for enjoying his registered cattle and had several daughters featured in the Select Sires Inc. sire catalog.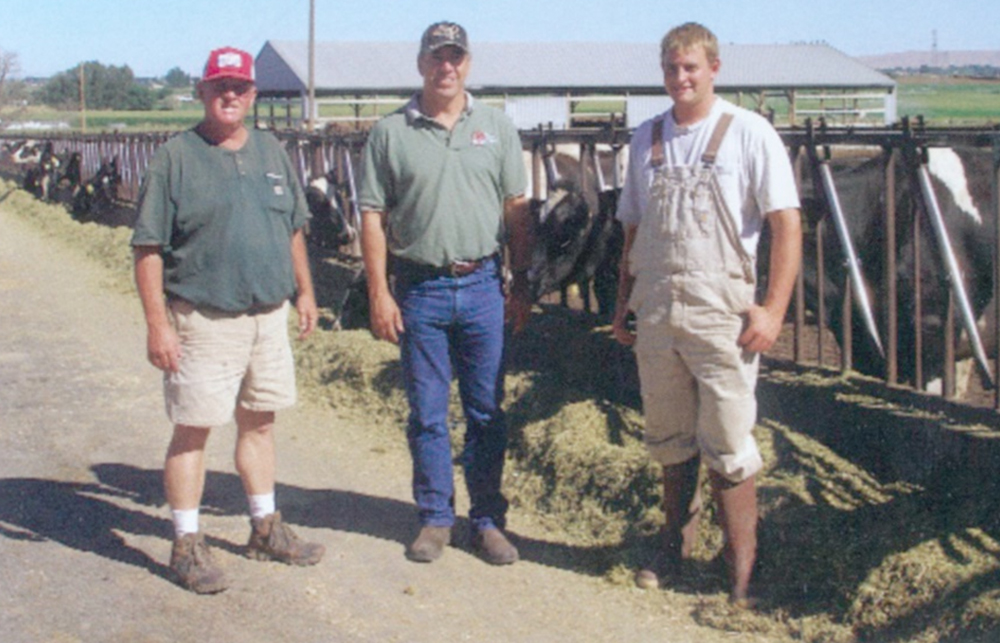 Fred was known to seek and take advantage of every opportunity that was presented to him and he will certainly be missed by the All West Family and dairy farming community alike. To learn more about Fred, click here to read an article he was featured in in All West's The Bullhorn newsletter in fall of 2008.
You can read Fred's official obituary below, shared by Flahiff Funeral Chapels & Creamatory.
On June 23, 2021, our Husband, Dad, Pake (grandfather), and friend went to meet his Lord and Savior at the age of 66. Fred John Visser was born in Corona, California on June 23, 1955 to John and Arlene Visser.
Fred grew up on a dairy in Modesto, California, the oldest of four. Growing up, he worked for various local dairies until he started working for his future father-in-law in 1973. He married Helen Van Oostende on October 3, 1975 and continued to work for his father-in-law until 1981. He then started his own dairy on a rented place in Elk Grove, California, where he stayed until 1986, when the dairy he was renting was sold to development. Fred then packed up his young family and found a small dairy in El Nido, California, where they stayed for two years. On October 3, 1988, he signed papers and bought a dairy in Corvallis, Oregon. The whole family packed up and moved, cows and all, to Oregon where they lived for 10 years. Then another opportunity presented itself in the Sunnyside, Grandview, Washington area and the family dairied there for 16 years. In November 2014, they again moved, cows and all, to Sand Hollow, Idaho for an opportunity to dairy with his son, Tristen, where the family will continue on his legacy.
Fred and Helen raised four amazing kids. The whole family spent countless hours working together. Dad made sure everyone had a job. No matter how young, everyone pitched in. He was very proud of each of his kids and their spouses, and then came his grandkids and they were his pride and joy. He loved listening to music (especially old hymns), the Mariners, and multiple Republican talk shows on his headset. Fred also had a love of Peterbilt trucks. Fred was a Commissioner on the Sand Hollow Fire Department and really enjoyed it. Fred was quick to help a neighbor or someone in need. He attended the Caldwell First Baptist Church.
Fred is survived by his wife, Helen; his children: Shannon (Mitch) Theurer, Karriann (Joshua) Davidson, Tamera (Jason) Smeenk, and Tristen (Cassandra) Visser; his 19 grandchildren: Kaycie and and Garrett Theurer, Owen, Grant, Andrew, Aaron, Josiann and Louiza Davidson, Carson, Adalee, Maylee, Weston, Devon and Brynlee Smeenk, Olivia, Colten, Alexa, Emmarie and Ty Visser; his siblings: Clarence (Chris), John (Kerri), and Henrietta Visser; his in-laws: Johanne (Dennis) Sonke, Tony (Monica) Van Oostende, Annette (Tom) Hudson, and John (Robin) Van Oostende; as well as numerous nieces and nephews. Fred was preceded in death by his parents, John and Arlene Visser; in-laws, Anton and Riet Van Oostende; nephew, Justin Wolfe; and grandchild, Avery Theurer.