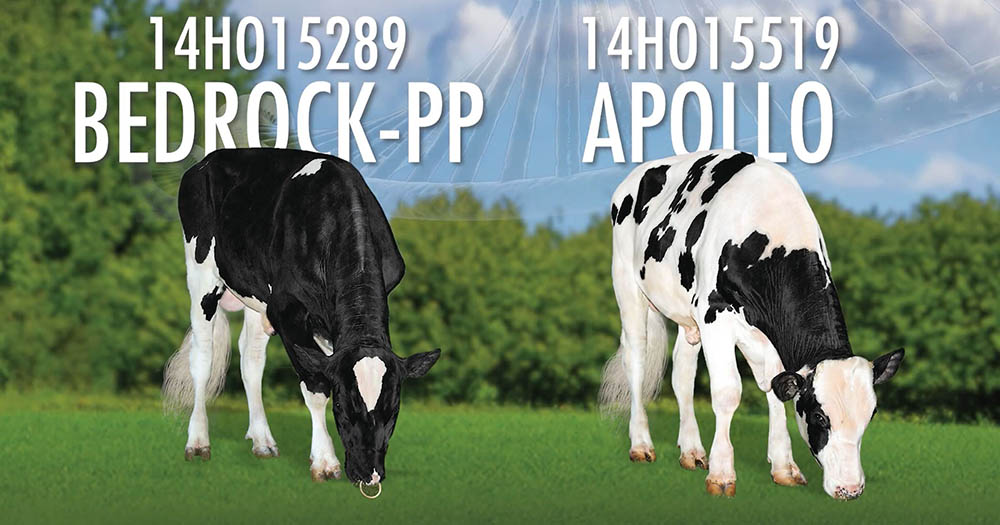 Select Sires has added 14HO15289 S-S-I Limlght BEDROCK-PP-ET and 14HO15519 Melarry Legacy APOLLO-ET to the NxGEN® lineup. Following the April sire summary, the NxGEN portfolio offers 20 exceptional, industry-leading sires.
"NxGEN was designed by dairymen, for dairymen. It is intended for dairies that want to drive genetic performance," said Jordan Siemers, dairy sire analyst. "The current lineup includes sires that meet the needs of nearly every dairy producer, no matter the management environment or selection criteria."
New additions BEDROCK-PP and APOLLO join an already strong and diverse lineup of NxGEN sires. BEDROCK-PP leads the industry's homozygous polled genetic ranks as the highest sire for GTPI® (+2821), Cheese Merit Dollars (+688 CM$) and Net Merit Dollars (+684 NM$). He offers instant production with +2,024 Milk and +132 Combined Fat and Protein (CFP). BEDROCK-PP also qualifies for Select Sires' new Mastitis ResistantPROTM designation. This first-of-its-kind designation is the latest genetic tool designed to identify sires that have the genetic power to resist mastitis and save dairies from costly mastitis cases. BEDROCK-PP transmits 2.76 Somatic Cell Score (SCS), 105 Z MAST and +1.8 CDCB MAST.
APOLLO offers balanced genetics and superior health traits. He creates trouble-free, fertile cattle by transmitting low Somatic Cell Score (2.62 SCS) coupled with high Productive Life (+7.3 PL), Livability (+2.1 LIV) and Daughter Pregnancy Rate (+0.7 DPR). This 7HO14250 LEGACY son ranks exceptionally well on the Dairy Wellness Profit Index® (+1,030 DWP$®) and Select Sires' new index, Herd Health Profit DollarsTM (+1,068 HHP$TM). He is A2A2 Beta-Casein, BB Kappa-Casein and qualifies for FeedPRO® and GrazingPRO® designations.
BEDROCK-PP and APOLLO are available in Select Sires' high-quality gender SELECTEDTM SexedULTRATM semen to make first-rate replacement heifers.
The 20 sires available through NxGEN average +2952 GTPI, +830 NM$, +864 CM$ and +928 DWP$, making the program one of the most elite of its kind.
To experience next level genetic gains, join Select Sires' NxGEN program and add these sires to your breeding roster.
®TPI is a registered trademark of Holstein Association USA. Dairy Wellness Profit Index and DWP$ are registered trademarks of Zoetis. Your Success Our Passion., NxGEN, FeedPRO and GrazingPRO are registered trademarks of Select Sires Inc. TMgender SELECTED, Mastitis ResistantPRO and Herd Health Profit Dollars (HHP$) are trademarks of Select Sires Inc. All gender SELECTED semen is processed using SexedULTRA technology. SexedULTRA is a trademark of Inguran LLC.