Any long-time dairy producer or milk consumer can note the many dairy consumption trends that have occurred over the years. Thanks to industry innovation, consumers can enjoy milk with a variety of modifications and nutritional benefits. For example, we have been seeing options such as fat-free and lactose-free milk, among other varieties, in stores for years. But the latest milk to gain popularity in the United States is labeled A2.
Most cows naturally produce milk containing both A1 and A2 proteins. The technical definition of A2 milk is milk that is naturally produced free of the A1 beta casein. Studies attempting to validate the benefits of A2 milk are ongoing. At this point, there is not conclusive evidence that milk produced by A2A2 cows has superior nutritional qualities, although it has been suggested that A2 milk may help some people who are sensitive to dairy avoid discomfort upon consumption.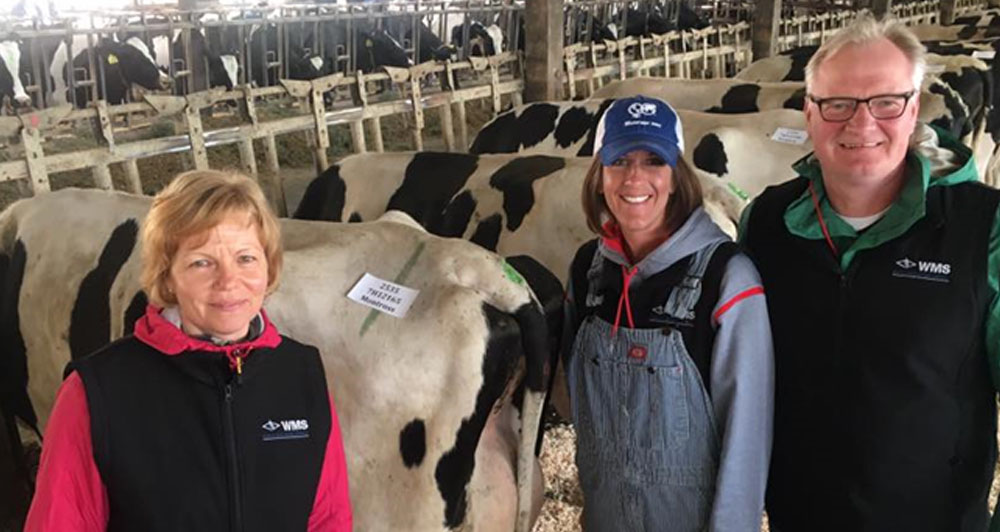 So, why are some producers becoming more interested in their herds producing this milk? World Wide Sires' Genetic Director, Rebekah Mast, summed up her thoughts from her world travels, "At the end of the day, consumer demand will be a critical factor in the adoption of A2 milk. If the consumer believes that milk produced by A2 cows is superior and they are willing to pay more for it, the science behind it will not matter."
A2 milk first gained tremendous popularity in New Zealand, Australia and parts of Europe following promotion largely by the a2 Milk Company, although research on the product is said to have begun in the 1990's. In more recent years, A2 milk has been hitting the shelves of supermarkets across the United States, even selling at super stores such as Walmart and Costco in several states.
This niche market for consumer-friendly milk is continuing to gain popularity in All West Territory, but will it continue worldwide?  Although it's impossible to say whether A2 milk will eventually be in high demand on a global scale, Select Sires Inc. Vice President Dairy Cattle Breeding, Jeff Ziegler, says international producers are in "get ready mode". "A growing list of international buyers are requesting non-A1A1 beta casein tested sires. While not many international markets are seeing A2 premiums being returned to producers, the desire to increase the A2 gene frequency in their herd should a market mandate, or at least pay beta casein premiums, is encouraging producers to prepare." Rebekah added, "At present it seems that the promotion is focused around fluid milk sales, which leaves room to sell A1A1 milk into other market segments."
As the dairy industry recognizes these trends, we look for ways to increase marketing opportunities for the future… and when it comes to your herd producing A2 milk, the future begins with today's genetic choices! The reliability of breeding for A2 is 100%. An A2A2 bull will transmit the A2 gene 100% of the time. Therefore, an A2A2 cow bred to an A2A2 bull will result in an A2A2 calf 100% of the time.
"The buzz surrounding A2 beta casein interest has certainly overcome the buzz for polled genetics," noted Jeff. "Even greater to see is the fact that responsible breeders realize when breeding for specialty traits such as polled and A2A2, that there's still tremendous value in A1A2 heterozygous tested sires along with A2A2 homozygous tested sires. We can't completely forget about the entire population of genetics available. We also can't, and shouldn't, increase the A2 beta casein presence at the sacrifice of
highly heritable profitable traits like fat, protein, fertility, health. Changing the genetic profile of a population, when done responsibly, takes time."
"We publish beta casein information on all of our bulls so that customers can use the information in breeding decisions. In most cases, A2 requirements are on a processor basis, so customers desiring to ship to that processor are testing their animals for A2 and buying semen from only A2 bulls," said Rebekah. When selecting bulls for use in a herd, Rebekah advises customers to select genetics that will have the greatest influence on their profitability. "Start with the traits that will have a known impact on longevity, production and health, but if two bulls are similar and one is A2A2, select the A2A2 sire to increase the prevalence of those genes in your population." This is exactly what Select Sires Inc. is doing when it comes to the acquisition and even production of the sires of the future.
Select Sires Inc. Holstein Sire Analyst, Kevin Jorgensen, noted that beta casein is now used a "tie breaker" in determining whether a bull is chosen to come to Select Sires Inc. in acquisition or not. If two bulls are both extremely desirable, but one is A2A2 and the other is not, Select Sires Inc. will choose the A2A2 bull. This criteria is helping to add even more A2 bulls to our growing lineup. Select Sires Inc. is now even carefully noting the beta caseins of the females purchased to produce sires, as well.
Your Select Sires cooperative has clearly recognized this consumer need and created a strong genetic lineup to allow your herd's milk to compete in the marketplace. "Fortunately, a nice percentage, and a growing percentage of our current and future genetic offerings are already infused with the A2 beta casein allele," ensured Jeff. "We have moved our selection principles on beta casein to a primary selection trait, and away from a former secondary selection trait. All bull calves genomically tested for consideration for entry into the three brands of Select Sires, will have beta casein results for inclusion in their final destiny to become a next Select Sires great or a genetic cull," said Jeff.
"We have been really fortunate as a company that we've had a couple really influential A2A2 bulls recently, including 7HO8081 PLANET, 7HO12165 MONTROSS, 7HO12198 KINGBOY. Therefore, we have those three bulls in many of our sire pedigrees", noted Kevin. "7HO12788 FRAZZLED is another popular A2A2 sire and the vast majority of his sons are A2A2, so most of the bulls that Select Sires Inc. has been using as sire fathers for the last six to nine months have all been A2A2. I'm almost positive that Select Sires has the highest gene frequency of A2A2 in the industry already, but being really leveraged on the sons of these sires is going to help us keep the gene frequency high as we move forward."
No matter what traits your current breeding strategy desires, All West/Select Sires most likely offers a sire who will pass those along, plus A2A2 milk from daughters in your herd! "I think we are in a real leadership position in the industry for A2A2 offering. Every stud is going to have A2A2 sires because it is a natural occurrence by chance, but we have more of a selection because we noticed the trend early on and prepared for the future. Our customers don't have to sacrifice high quality genetics to produce A2A2 milk." said Kevin.
Although it may still seem like a trendy "buzz word" in the dairy aisle at your local grocery store, this "easy to digest milk" seems to be less of a fad, and more of a milk option that is here to stay! Thankfully, Select Sires Inc. has done the research and preparation to provide a wide variety of bulls that are not only profitable for dairy producers, but are also delivering the milk consumers are asking for.
Click here for a complete listing of All West/Select Sires A2A2 sires.