Now Accepting Applications for the 2023 All West Summer Internship
All West/Select Sires is seeking an amazing addition to the All West family in the form of a college student intern for the summer. We are looking to hire one intern for a period of 8 weeks to work throughout All West Territory. The start and end dates of this internship are flexible and chosen by our selected intern as their academic schedule permits.
Students majoring in Dairy Science, Animal Science, Agriculture Business or Agricultural Communications who are familiar with the cattle industry are preferred. While juniors and seniors will be given preference, sophomores will also be considered. Applicants must submit an application, cover letter and resume with references no later than January 1.
Welcome to the All West Family
Since 1941, All West/Select Sires has existed to enhance member-owner's success through genetics. All West is one of the six farmer-owned-and-controlled cooperatives of Select Sires Inc., North America's largest and most successful artificial insemination company. We provide highly fertile bovine semen as well as excellent service and programs to cattle breeders in California, Oregon, Washington, Northern Idaho, Western Montana, Alaska, and Hawaii. Our highly-trained team works together to bring their knowledge, talent, enthusiasm, and passion to your farms and ranches every day to ensure a progressive and profitable future for your herd. Whether you are a team member or our customer, you are part of the All West Family and Your Success is Our Passion!
The holiday season is quickly approaching and we'd love to decorate your herd with 7HO16287 ORNAMENT! This young sire is a 7HO15430 EXPECTANT son bred by Ladys Manor LLC who carries the FeedPRO designation. He shines brightest in Type traits, including Genomic Total...
14HO15667 MINKAH is an exciting young sire in our Accelerated Genetics lineup! The 14HO14906 CHAS son has impressive Fitness traits including +$1,063 Herd Health Profit Dollars (HHP$), Daughter Pregnancy Rate (DPR) of +1.0, and +6.2 Productive Life (PL). His Type...
The growing size of dairy farms is making it increasingly difficult to maintain attention for individual cows. CowManager's innovative cow monitoring system introduces a sense of calm and control, thanks to its unique combination of ear temperature and cow behavior....
Interested in CowManager, but not sure exactly how it works? You can now download their new Demo App to discover the benefits of monitoring your herd 24/7 with CowManager sensors! This free app uses a virtual dairy to give you a glimpse of all modules, the data the...
Curious which sires an All West Beef Team member may advise you to use? Adrienne Lulay is sharing insight about a few of her current favorite bulls in her tank! "Early in the breeding season many of my jobs are purebred operations where bulls are chosen specifically...
We recently caught up with All West Beef Large Herd Specialist Clint Sexson to learn more about the sires he has to offer the customers of All West Territory. The philosophy is "The customer is always right." This means, I keep a very wide variety of bulls on hand to...
Follow the All West Family
"I really like working at All West/Select Sires because of its co-op structure. I like that our first job is to do what is right for the customer and it's not always about the bottom line. It's about making our customers successful, over worrying about whether we're successful or not."
Rory White, All West/Select Sires General Manager, CEO
"I like working for All West because of the people. Everyone gets along and helps each other. If I ever need assistance or have a question, they are always here to help. I feel like my voice is heard working for a co-op and at All West I am treated like family."
Brian Nelson, All West/Select Sires Dairy Program Specialist
"I am able to work with a variety of different people, helping them breed better cattle to improve their herds, their production, and their life. By doing that, it also improves my life and the life of everybody in my company."
Tony De Mello, All West/Select Sires Dairy Marketing Director
"My favorite part about working for All West is the people. All West has always stressed that this is a family. When you have people that you know that well and you trust, it makes doing your job that much more fun."
Randy Van Wieringen, All West/Select Sires Dairy Program Specialist
"I enjoy working for All West because it is such a family atmosphere. My coworkers are always making sure that I am taken care of and reaching out to me. I really appreciate my team."
Carly Olufs, All West/Select Sires Dairy Program Specialist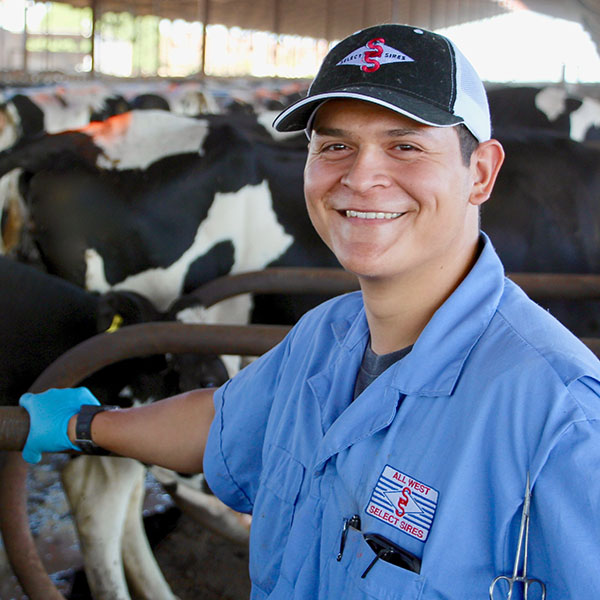 "My favorite part of my job is waking up and seeing God's beautiful creation every morning. Nothing tops being out here with the cows. That's what it's all about."
Mario Limon, All West/Select Sires Technician Team Leader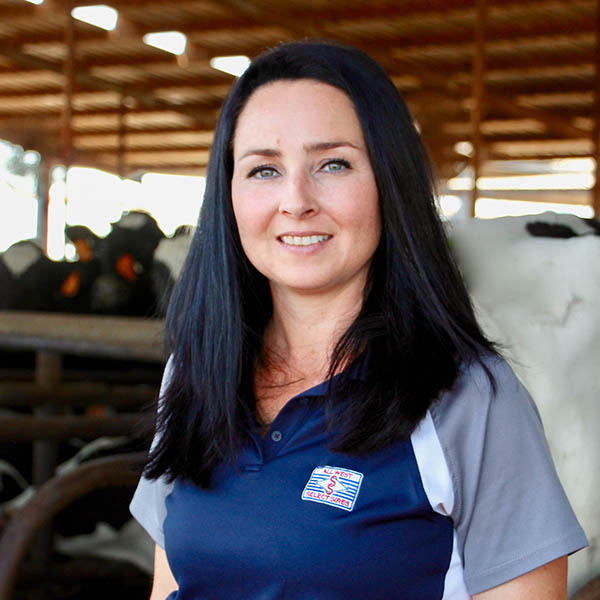 "I enjoy the fun, family work environment and the top-quality products that we have to offer."
Angie Kennedy, All West/Select Sires Director of Dairy Programs
"All West has been my home for 20 years and I don't see myself anywhere else for the next 20! It's a great place to work! "
Rocky Moitoso, All West/Select Sires California Distribution Manager
"We have a great group of guys. We're all different, yet all part of the same team. That's what makes this organization so great!"
Marvin Correia, All West/Select Sires Sales Representative
"I enjoy getting up early and spending time with cows. When I am doing my work in each herd, I always try to make good relationships with the dairy workers."
Ruben Ayala, All West/Select Sires Professional A.I. Technician
"I enjoy working with the people of All West/Select Sires. It's a whole lot of fun to go to work each day. I love what I do and I love who I get to work with."
Kelby Stadt, All West/Select Sires Sales Representative
"Although our sires and their daughters are impressive, my favorite part of the job is the people. It is truly a privilege to work for a farmer-owned cooperative where I get to directly serve the producers and ranchers who own Select Sires."
Mackenzie Yerian, All West/Select Sires Manager of Communications
"I really like working with our customers. We always have something new to talk about, or show them, and that makes this job so interesting. We have a really good team!"
Karl Krangnes, All West/Select Sires Northwest Sales Administrator
"I enjoy breeding cows because I have the opportunity to work with the dairymen to improve their genetics and operation as a whole. Improving the next generation of cattle for our producers in quite an honor and very exciting."
Ryan DeYoung, All West/Select Sires Professional A.I. Technician
"All of my customers are great people. It's hard to find a dairy customer who isn't. They all love their animals and they're easy to work with."
Bryce Stampanoni, All West/Select Sires Technician Team Leader
"I really enjoy the opportunity to be a small part of the rich history of family farming. I also like seeing how the industry adapts to change and prepares for the future."
Carson Hillberg, All West/Select Sires Dairy Program Specialist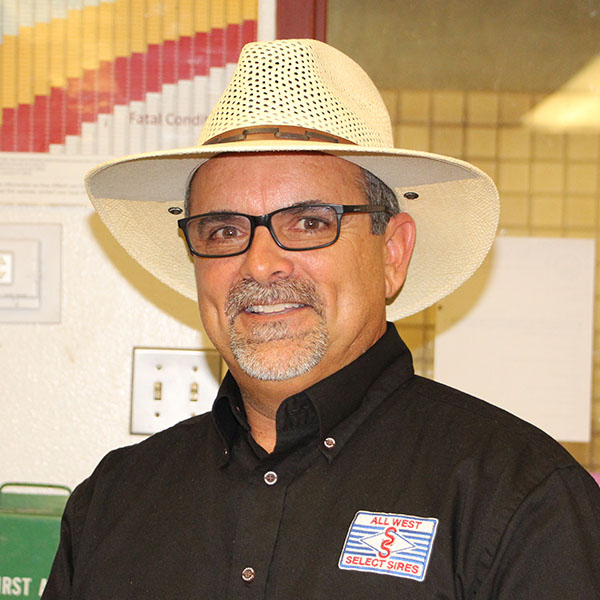 "Everybody at All West/Select Sires makes you feel welcome and part of something bigger than just the logo on your shirt or the miles on your truck. It's really a special organization."
Rodney Paulo, All West/Select Sires Dairy Program Specialist
"I really like the team atmosphere of All West. We have great people in this cooperative. I also love working with our customers while still working with cows every day."
Kit Watson, All West/Select Sires Sales Representative