7AN474 CONNEALY BLACKHAWK 6198  Sire of Lot 4, from Slash M Angus
– One of the breed's most elite growth sires while keeping BW in check.
– BLACKHAWK will add frame size, performance, body length and stoutness.
– He offers strong maternal qualities too, ranking in the top 1 percent for $W with elite SC, DOC and HP.
– BLACKHAWK will sire scale-crushing feeder cattle and high-quality, maternal, strong daughters.
14AN461 JINDRA ACCLAIM  Sire of Lot 1, Slash M Angus Lot 41, Cambra Livestock Lot 44 & 45, SK Ranches
– ACCLAIM ranks at the top of the breed for $Beef while also ranking in the top 10 percent or higher for CED, WW, YW, RADG, DOC, HP, CW, Fat and $F.
– An outcross to most Angus pedigrees, ACCLAIM is a free-moving, long-bodied, larger-framed bull with elite growth.
– If your goal is to add elite carcass value, boost growth, maintain Calving Ease and maternal value, ACCLAIM is an excellent choice.
– In addition to growth and carcass, he excels for Heifer Pregnancy and Docility!
– His dam was a crowd favorite on the 2018 Select Sires Beef Tour for her mass, three dimensional type, fleshing ability, udder quality and foot design.
7AN449 EATHINGTON ICE CAP 305C  Sire of Lot 2 & 3, Slash M Angus
– Top 1% CED and $W – they come light and grow fast
– His pedigree is stacked for multiple generations with sires that excel for eye-appeal and structural correctness
– A Calving Ease bull that excels for base width and muscle shape
– A great option for First Class and Style descendants to generate easily-born first calves
7AN521WOODHILL BLUEPRINT Sire of  Lot 13 & 14, Wind River Cattle Co.
– One of the most unique bulls we have seen in recent times, BLUEPRINT is the kind cattlemen want.
– He exhibits exceptional phenotype with the combination of EPDs and genomic profile indicating the proper balance of traits for maternal performance and end-product merit.
– Bred in one of the most respected herds in the country and from the legendary Evergreen cow family.
– BLUEPRINT is rich in pedigree derived from years of stacked genetics for functional cattle who perform in every segment of the business.
7AN531 MOGCK ENTICE Sire of  Lot 24, Mauna Kai Angus
– ENTICE is wide-based, long-bodied with exceptional depth of rib and thickness.
– He offers a very pleasing phenotype in a growth oriented mid six frame score
– He does very well from a carcass standpoint. He has a 4.94 IMF score with a ratio of 118 and a ribeye measurement of 17.0″ with a ratio of 114.
– He has a good disposition, which is validated by his score of 1 on the 50K test for Docility.
7AN479 KB-FULL MEASURE C40 Sire of  Lot 25 West Brook Angus
– Potent genetics that will boost a genomic profile to new levels.
– He is elite for $W and $B while in the top 20 percent of the breed for 17 different traits and indexes.
– FULL MEASURE is structurally sound with a long stride and extra neck extension. He is long-hipped, level-topped, smooth-shouldered with plenty of muscle definition and fore rib.
– Get a FULL MEASURE of traits and phenotype in one complete package.
7AN388 SS NIAGARA Z29 Sire of  Lot 28, 30, 31, 4-D Land & Cattle Lot 48, Clearbrook Cattle Company
– Established as a go-to sire for high performance sons and daughters.
– Daughters are big-bodied, wide-based and powerful with quality udders.
– NIAGARA's list of sale toppers continues to grow – they're in demand!
– One of only two proven bulls providing his blend of yearling growth and muscle.
– Move your cow herd to a higher level of performance with one of the best, NIAGARA.
14AN502 TEHAMA TAHOE B767 Sire of  Lot 26, 4-D Land & Cattle
– Tahoe is arguably one of the most complete Angus bulls in the breed.
– Ranks in the top 1 percent of the breed for CED and top 10 percent for WW and YW all while adding body, fleshing ability and base width.
– Check out his maternal greatness ranking in the top 2 percent of the breed for $W and top 15 percent for HP, DOC and CEM
– Use to reduce mature size without sacrificing performance
– He will improve MARB and REA while adding eye-appeal, dimension and improving feet and udders
– Few sires can match his combination of Calving Ease, performance, maternal traits and carcass merit all while improving type and
7AN528 DEER VALLEY GROWTH FUND Sire of  Lot 37, R Angus
– The most intriguing young sire to enter A.I. this year. GROWTH FUND defies the odds in terms of genetic merit.
– His impeccable EPD profile provides modest Calving Ease with off the charts growth and end product values.
– He ranks among the Angus breed's most elite 1 percent for WW, YW, CW, $W, $F and $B.
– His powerful dam is backed by the Select Sires cornerstone sires of WEIGH UP and 5050 and his third dam is the legendary 614 cow.
– Angus royalty that have proven to add performance and value year after year.
– It's rare to find a bull that captures one's eye on paper and in the pasture.
– GROWTH FUND is a structurally sound, moderate-framed bull with a powerful hip and rear leg.
– He exhibits extra neck extension, a smooth shoulder and is wide topped and wide-based with muscle expression and depth of body.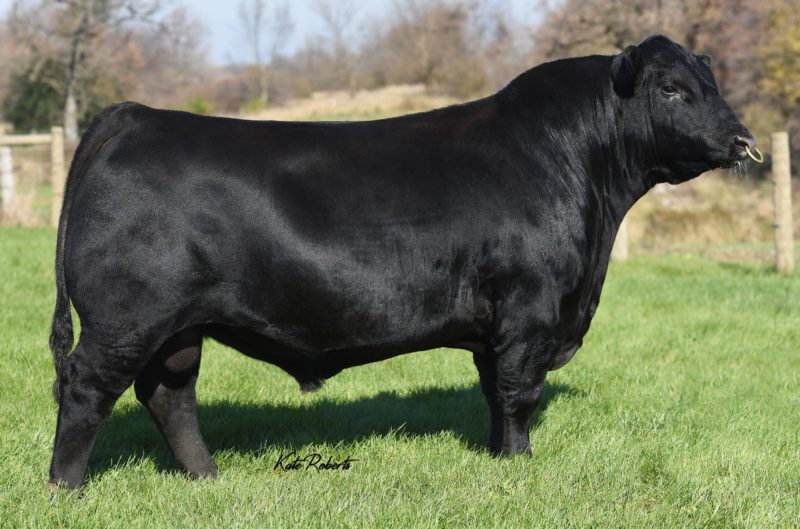 7AN451 WERNER FLAT TOP 4136 Sire of  Lot 47, Steer Head Cattle Lot 66, Creek Cattle Co Lot 72, 73 & 76, E Arrow Acres
– FLAT TOP is a highly used young sire who keeps building exceptional data.
– A dependable Calving Ease sire who consistently delivers exceptional growth and eye-catching phenotype.
– Black Granite's stoutest and best phenotype son. He exceeds his sire for frame size and length of body; impressive to all that have seen him.
– Maternal strength is braided into his pedigree; his dam consistently transmits exceptional phenotype while backing it up with stellar production records.
– Excellent mating choice to reduce birth weight, correct structure and increase phenotype without sacrificing growth.
7AN463 TEX PLAYBOOK 5437 Sire of Lot 49, Clearbrook Cattle Company Lot 69, E Arrow Acres
– Consistently sires quality! PLAYBOOK calves have risen to the top of calf crops across the country.
– They are quiet-tempered, deep-bodied, structurally correct cattle with exceptional eye-appeal and performance.
– PLAYBOOK is stout, smooth and big-middled with lots of base width and muscle expression. Easy to view and easy to use.
– A breed leader for $Weaning, Docility and Milk.
– A proven low birth weight, Calving Ease sire who does not sacrifice body dimension or growth.
– Works extremely well on WEIGH UP, PROPHET, FORTRESS and TEN X descendants.
7AN401 HOOVER ELATION M123 Sire of  Lot 64, Mcintosh Angus.
– One of our favorites for siring easily born calves with quality.
– Reliable Calving Ease and maternal greatness! Check out his elite Docility, moderate mature size and ideal milk EPD.
– One of the breed's best for Heifer Pregnancy.
– ELATION's pedigree provides lots of mating flexibility on daughters of COMRADE, FORTRESS, HORIZON, NIAGARA and REMEDY.
7AN443 BALDRIDGE BRONC Sire of Lot 63, Mcintosh Angus Lot 70, E Arrow Acres
– BRONC has joined the ranks of a proven Calving Ease and spread bulls.
– He has been one of our top-selling bulls due to customer satisfaction and repeat business.
– His calves are born easily with extra vigor and grow rapidly with extra style and balance.
– BRONC exceeds his sire for frame size and captures your attention from every angle.
– His dam is one of the most prolific, high impact donors in the Angus breed and she stems from the legendary, stud bull producing, Isabel cow family.
7AN389 GAR SURE FIRE Sire of Lot 67, Grant Angus Lot 68, West Angus
– The premier Calving Ease and carcass bull in the beef business today.
– SURE FIRE defines maternal like a good bull should. He's high for DOC, HP, CEM, sires the right-size in terms of frame and he stamps his daughters with superb udders.
– With nearly 150 actual carcass records and top 1 percent Marbling, expect quality grade premiums!
– SURE FIRE is seeing heavy use by commercial and purebred cattlemen who are focused on the future.
– Take advantage of proven value-added genetics!