Western Livestock is a 350 cow, family owned, commercial enterprise operated by Phil and Lynna George. The ranch consists of 3,500 contiguous acres, half owned, half leased, of native tallgrass prairie, brome grass and triticale/turnips. Phil's great-grandfather homesteaded on a parcel of the property in 1870. Connealy heifers that were purchased in 2014 are the base of the cowherd. The replacement heifers, 1st calf heifers, and early calving cows are Aied each year. 7AN389 GAR Sure Fire and 14AN502 Tehama Tahoe are the AI sires for the cows and 7AN560 GAR Quantum for the replacement heifers. The heavy steers are sent to Brookover Feedlot near Garden City, Kansas in December and sold on the grid in June weighing 1400 lbs. Light steers and heifers are sold at the Emporia Livestock Sale in January.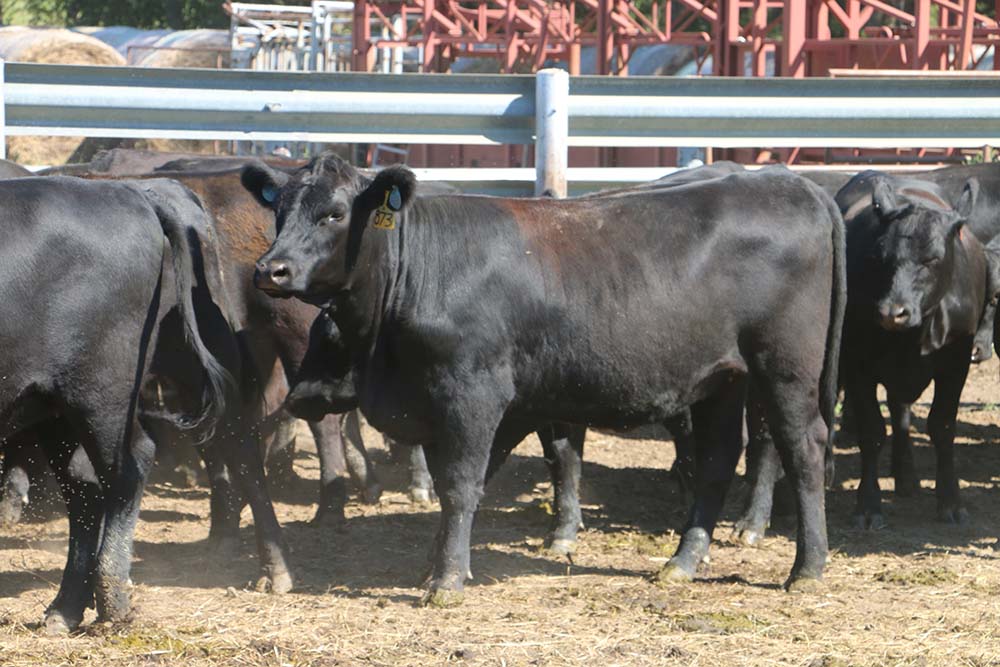 7AN389 GAR Sure Fire daughter
For the last 10 years, Phil has been the Production Director for Miratorg Agribusiness Holding of Russia, building their Angus and their Prime Lamb projects. Their Angus herd consists of 3 million pasture and cropland acres, 324,000 Angus mother cows, 3 feedlots with a one-time capacity of 225,000 head and a beef plant with a capacity of 10,000 head per week. Heifers, bulls, and horses were exported to Russia from the US and Australia in 2011-2014 to begin the herd. The target is to reach 400,000 mother cows by 2024.
A seed stock herd of 3,000 females is maintained to produce bulls for the commercial herd and drive genetic improvement. Sixty thousand replacement heifers are Aied each year. Over 20,000 embryos are produced by in vivo an IVF procedures to produce 5,000 yearling bulls each year. All offspring, commercial and seed stock, receive an RFID at birth or at 1st vaccination at 3 months of age and are genotyped with a 50K panel. Feed intake and average daily gain is measured on 5,000 yearling bulls and heifers each year using a 108 node GrowSafe System. Steers are harvested at 20-32 months of age at 1600 lbs and grade 50-70% Prime. The company is developing its own Terminal and Maternal Selection Indexes and terminal and maternal lines within the Angus breed. Ninety-five percent of the product is consumed in Russia but the company does export to customers in the Middle East, Japan, Hong Kong, and China.
A herd of 30,000 herd of Wagyu x Angus is being develop. The Fl females will be mated to Wagyu to produce F2 animals that will be harvested to produce 500 premium carcasses per week to complement the Angus product.
The Prime Lamb project is a total confinement operation with 50,000 ewes that will grow to 350,000 ewes by 2028. Ewes are in an accelerated lambing program where mature ewes will lamb every 8 months and wean 6 lambs every 2 years. The production flock consists of an Fl ewe (Lacaune x Dorper) mated to a terminal breed of either White Suffolk or a Composite Breed from Wales. The target is to produce 1 million lambs by 2028 weighing 120 lbs at 4.5-5.5 months of age