The 53rd World Dairy Expo took place October 1-5, 2019 in Madison, WI. Nearly 70,000 attendees from 100 countries gathered to network, learn about the latest dairy industry innovations, and of course, celebrate showing success on the colored shavings.
The theme of this year's event, "Tools for Dairy's Progress" allowed many sectors of the industry to highlight their latest innovations. Select Sires Inc. is a proud Five-Star Sponsor of World Dairy Expo with a great presence in the showring and beyond. Select Sires Inc. features several booths and displays throughout the show. This year, our very own All West A.I. technician, Joe DaSilva, was featured on the "Build a Better Heifer" display! Many attendees visited the booth to get their hands on the new Showcase Selections Brochure while others entered exciting giveaways or stopped to learn more about our products, programs and services.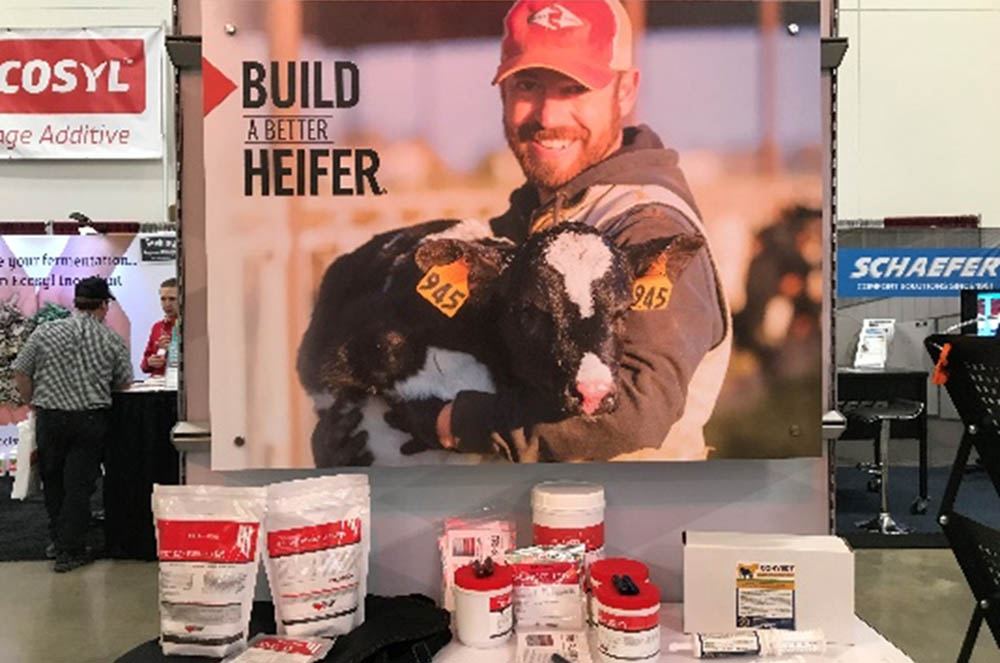 Among other events, the 31st World Classic Sale took place during last week's World Dairy Expo. The sale averaged $28,314 on 47 lots! $145,000 was the top bid that took home Aardema Final Victory, a daughter of 614HO14085 SOLUTION. 2nd high seller at $95,000 was a daughter of NxGEN sire 7HO14250 LEGACY. Her name is Sandy-Valley Secret and she is a daughter of Sandy-Valley Eternity-ET. Eternity is also the dam of several sons here at Select Sires including 7HO14364 EISAKU who is in the NxGEN line up.
On the colored shavings, 7BS849 THUNDER continued his winning ways! Cutting Edge T Delilah was named World Dairy Expo Supreme Champion for the second year in a row. Last year, this cow made history as the 2nd cow ever to be named the Supreme Champion of both the Junior Show and the World Dairy Expo overall. She is owned by Ken Main and Kenny Jo Manion. Cutting Edge Thunder Faye was named Reserve Senior Champion and Reserve Grand Champion. He had 10 daughters that placed in the top 10 including three class winners. In addition, THUNDER was also named Premier Sire of the show!
Cutting Edge T Delilah, 1st Aged Cow, Senior Champion & Grand Champion, Now 2X Supreme Champion at WDE
Cutting Edge Thunder Faye, 1st 5-Yr-Old, Reserve Senior Champion & Reserve Grand Champion
Other Brown Swiss highlights included:
SEAMAN had 6 daughters place in the Top 10 of their classes including one class winner! SEAMAN was named runner up Premier Sire of the Heifer Show!
7JE1486 FIZZ also sired many great daughters at the show, earning him the title of Premier Sire of the World Dairy Expo heifer show. Above, Heart & Soul Fizz Faith-ET, was just one of his daughters who earned him this title.
She was 1st Place Winter Yearling and is owned by D Cole, T&C Mazzaro, P Conroy, Clark Valley and London Dairy.
Other Jersey highlights included:
COLTON had 11 daughters place in the Top 10 of their classes with one class winner! He also had a daughter tapped as HM Junior Champion of the Junior Show!
FIZZ had 8 daughters place in the Top 10 of their classes with 3 individuals also placing in the Top 3, including one class winner! FIZZ also won the Premier Sire of the Heifer Show!
VICTORIOUS had one daughter place in the Top 3!
VALENTINO had two daughters place in the Top 10!
Some of our All West Territory customers also had great success, including Frank and Diane Borba, who own Oakfield GC Darby in partnership with Trent Valley, T&L Cattle and J & D Mell. Their 7HO10920 GOLD CHIP daughter was named 1st Place 5-year-old, Reserve Senior Champion and Reserve Grand Champion of the International Holstein Show.
Oakfield GC Darby – daughter of 7HO10920 GOLD CHIP, 1st 5-Yr-Old, Reserve Senior Champion & Reserve Grand Champion
Floydholm Mc Emoji-ET – daughter of 7HO11477 MCCUTCHEN earned the title of 1st Junior Three-Yr-Old & Intermediate Champion.
7HO9264 DEMPSEY daughter, Heart & Soul Dempsey Raelynn, 1st place Summer Jr. 2-Year-Old, was named Intermediate Champion of the International Junior Holstein Show. Congrats to Matthew Boop!
Other Holstein highlights included:
DEMPSEY had 6 daughters in the Top 10 including one class winner!
GOLD CHIP had 5 daughters place in the Top 10 of their respective classes and one class winner!
DIAMONDBACK had 3 daughters in the Top 10 with one being a class winner!
Other sires that had daughters in the Top 10 include: UNDENIED, JACOBY, KING DOC, ATWOOD, DEFIANT, ARMANI and JEDI!
Mead Manor Def Adeline-Red – daughter of 7HO11596 DEFIANT, was named 1st Jr Three-Yr-Old, Intermediate Champion & Grand Champion Jr Show as well as Best Bred & Owned of the Red & White Show! She was also named Supreme Champion of the Junior Show!
Other Red Holstein highlights included:
DIAMONDBACK – The future looks bright! He had 25 daughters in the Top 10 placing of their respective classes including 7 that landed in the top 3 as well as one class winner! This outstanding showing earned DIAMONDBACK the runner up honors for the Premier Sire banner. There were no daughters beyond the Three-Yr-Old classes! We can't wait to see what next year brings!
DEFIANT had 6 daughters place in the top 10 in their class, all 6 were also finished in the top 3 of their classes as well!
ARMANI had 6 daughters in the Top 10 including two class winners!
The cattle weren't the only ones in the spotlight! Two successful gentlemen from All West Territory's state of California received well-deserved recognition.
Dairyman of the Year: Steve Maddox , Writing by: World Dairy Expo published in Dairy Herd Management, Photo by: Melanie Fritsche
Steve Maddox of Burrel, California, a managing partner in Maddox Dairy and a partner in RuAnn Genetics, is the 2019 Dairyman of the Year.
Following graduation from California Polytechnic State University in 1980, Maddox returned to his family's farm and began working to build RuAnn Genetics. This 1,000-cow herd serves as the breeding herd for Maddox Dairy, a 4,000-cow herd. In a year, 3,000 to 4,000 embryos are collected at RuAnn and more than 100,000 embyros have been collected since its start.
Maddox oversees feed management and ration formulation for the herds while coordinating the activities of more than 60 employees. Under Maddox's care, and working closely with his brother, Pat, and son, Stephen Jr., the cows in both herds maintain a rolling herd average above 26,000 lb. of milk with 200 cows classified Excellent and more than 1,000 Very Good. He has two other grown children, Melissa and Cristina, with his wife, Brenda.
Off the farm, Maddox has a colorful resume of involvement in organizations. He has offered input and leadership to the National Dairy Promotion and Research Board as a member of the U.S. Dairy Export Council Board, Dairy Export Committee, serving as Vice Chairman and Chairman in 2012 and 2013. Maddox has also held board positions with the Innovation Center for U.S. Dairy, National Milk Producers Federation, California Dairies, Challenge Dairy Products Inc., Danish Creamery Association and Fresno Dairy Herd Improvement Association. Maddox also serves on Holstein Association USA's Legislative Affairs Committee and makes regular trips to Washington, D.C., to advocate for dairy producers.
2019 Klussendorf Award: Ken Melvold, Writing and photo by: Corey Geiger, Managing Editor of Hoard's Dairyman
Ken Melvold of Fresno, Calif., was named the 78th winner of the Klussendorf Award, the highest recognition given to a dairy cattle showman in the United States during the 53rd World Dairy Expo.
The award is given in memory of Arthur B. Klussendorf, considered an outstanding showman of his time and a model for all those who have followed him. This year's selection was made by members of the Klussendorf Memorial Association, formed in 1937, at its annual meeting held in Madison Wisconsin. Melvold received the silver trophy designed by Tiffany Jewelers of New York City.
This year's winner showing experiences started like many others with a 4-H project and progressed from there. During college, Melvold worked with the Piney Hill West show herd, traveling up and down the California circuit. The string would show all summer and end up at the California's Cow Palace and then on to Waterloo, Iowa, at the National Dairy Cattle Congress.
It was during this time that the 78th Klussendorf winner rubbed elbows with the likes of Henry LaFranchi, Stuart Rowe, Harlan Askelson, Al Hay, and many more. As these relationships grew, Melvold would work for such herds as Willomonte in Nevada, Champ Goodwood in Missouri, Dreamstreet in New York, and Bottema Farms in Indiana. Melvold also worked with some of the best herds throughout California and assisted or managed hundreds of sales in all dairy breeds throughout the U.S. If success is measured in miles traveled, few can match Melvold's odometer from boxcar to airplane.
If success is measured in ribbons, banners, and trophies won, the trophy case would be overflowing.
Most importantly, if success is measured by friendships gained and grown throughout the years, few in dairy circles could match this Melvold's success. Simply stated, Ken Melvold is one of the most popular people in our business.
The 2020 World Dairy Expo will be taking place in Madison, Wisconsin from September 29, 2020 to October 3, 2020 with the theme "Instrumental to the Industry". We're looking forward to next year!