All good things must come to an end! Kaycie and Kayla completed their eight-week All West Summer Internship with us on Friday, August 18, 2023. Tune in to the video below to hear what they had to say about the experience!
Learn more about the first half of their experience here and scroll down to read about the rest of the internship below.
 2023 All West Summer Intern, Kaycie Bajka:
Time flies when you're having fun!
We got to spend Week 5 of our internship in Washington! We spent Monday touring the office before heading out to a dairy in Stanwood on Tuesday. There, we shadowed a vet doing pregnancy checks. We were able to palpate fetuses at different stages of gestation and look at ultrasounds of pregnant and fresh animals. I was able to feel the calf kick against my hand in a cow that was around 190 days pregnant, which was very exciting!
Next, we met All West Technician Scott Jakelski to follow along on his breeding route for the day. He allowed us to continue working on our A.I. skills and I got to see how different dairies are in Washington. On Wednesday, we followed All West Technician Team Leader Bryce Stampanoni on his breeding route with Scott. It was helpful to see how different people have perfected their skills based on what works best for them and think about what tips and tricks might work for me in the future. Having both Bryce and Scott there made it easy for Kayla and I to split up and practice our A.I. skills!
After a few hours of breeding, we started our road trip to Scio, Oregon, but we couldn't leave without stopping at Snow Goose Produce in Fir Island for some massive scoops of huckleberry ice cream! We made it to Independent Beef Sales Representative Adrienne Lulay's home just in time for a wonderful dinner. We were able to meet her family and animals, see her super cool Hip Camp, and visit the beaver in the river nearby before the night was over. On Thursday morning, we started in the best way by riding horses, and then headed out for a long day of breeding, CIDRs and blood pulls. After breeding Herefords, Dexters, and Angus, inserting CIDRs into 27 Tarentaise, taking blood samples from club calves, and a quick stop at Alpaca Land, we made it back to the house for some sleep and got ready to do it all over again the next day!
Day two with Adrienne started with breeding one of her Simmental and putting nose flaps in her calves. We then filled the day breeding Scottish Highland, Shorthorn, Longhorn, and Angus cattle, and taking blood samples from both Wagyu and Angus. I loved learning about all of the different beef breeds and getting to experience their differences both physically and in their demeanors. There was so much to learn about how many aspects of this industry work. Being with Adrienne was an eye-opening and amazing experience!
Typically, our weekends have been fairly uneventful. However, this Saturday started with a drive to a raw milk dairy. I'm not going to lie; raw milk makes me a little nervous. However, after seeing how everything is run in this operation, I was more than willing to try it! It was amazing to see how personalized the process was for each cow and to taste the difference in raw milk. From there, we headed to Newport to go to the aquarium. It was a quick stop, but very fun to see on our way to Tillamook. We spent Sunday relaxing and got to enjoy Rockaway Beach before heading to dinner with Chelsey Naito and her family. We started bright and early Monday morning following Chelsey on her breeding route. We were with Chelsey for three days and we got an early start for all of them! It was awesome to see how many dairies go into the Tillamook products that we see in the grocery stores and very cool to see how efficiently Chelsey can A.I. in all of these herds and the awesome relationships she has formed with each producer. Going to the same dairies multiple times allowed us to see how things can change day to day.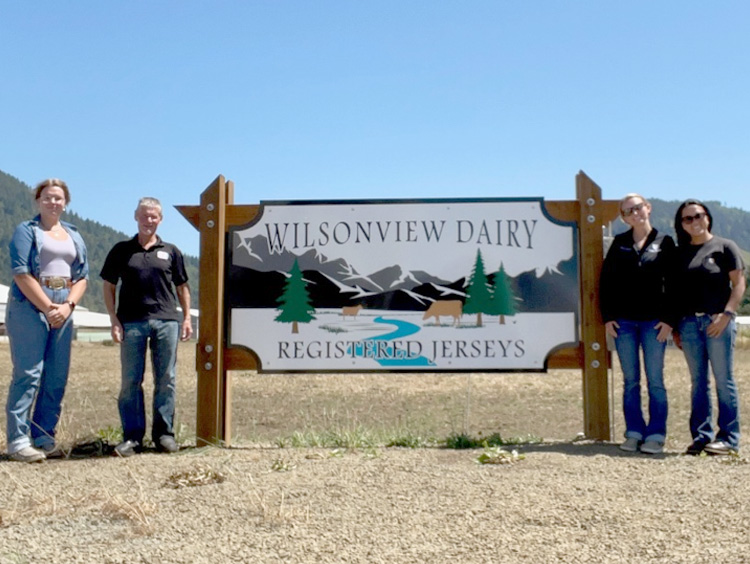 While we were in Tillamook, we also got to meet All West Sales Representative Allan Hanselman and see a couple of stops on his sales route. He works with very impressive herds with progressive operations. Some of these included high-ranking show cows along with a high-producing Jersey herd that happened to have a couple of mini highland crosses, as well. They were unbelievably cute! It was also nice to connect with a fellow Cal Poly alum who is so involved in the Cal Poly community.
Our last ride-along in Oregon was with Matt Jansen to learn how he does genetic evaluations in some of the local herds. We walked through the pens and discussed the most obvious positive and negative traits of each cow and how selecting certain sires could make an impact. Of course, we got grilled cheese sandwiches and milkshakes at the Tillamook Creamery while we were in town! After we each traveled home, we had a couple of days off to rest and recharge before our next week.
I started Week 7 in the Turlock warehouse with Rocky Moitoso and Gio Hoeut! They walked me through how the warehouse is stocked, everything it contains, and most importantly how every straw enters and exits the All West inventory. I got to see shipments come in from Ohio, get moved into the storage tanks, and eventually into tanks for sales representatives and customers. It was nice to be surrounded by so much cool liquid nitrogen on such a hot day in the central valley!
I spent Tuesday with Suzi Wilson and Toni Duralski in the office. I spent most of the day learning about All West allocation with Suzi, which is quite a process, but so interesting to see from start to finish. A lot goes into making sure the right units make it into the right tank for such popular bulls!
On Wednesday, I jumped in the car and headed down to meet All West Dairy Program Specialist Rodney Paulo in Merced for his sales route and was able to practice doing more linear evaluations. We stopped at a few herds we had looked at the month before and it was nice to be able to see a new set of fresh cows from the same herd. Our last stop of the day was Fresno State's Dairy. Graduating from Cal Poly, it was interesting to see the differences in how two college dairies are run. I also got to see how Select Mating Services (SMS) gets set up for a herd which helped the program make more sense to me.
On Thursday, I was able to ride along with All West Dairy Program Specialist Carson Hillberg again to practice my A.I. skills and help with semen inventory. Proofs had just come out and we went over new bull rankings and genomic information that was released. It was great to understand individual bull proofs more and the impact behind each number listed.
I finished my week with All West Director of Dairy Programs Angie Kennedy. We were able to walk more of the same herds, but again with a new set of fresh cows to do linears on. I think I'm starting to get the hang of making judgments on cows and scoring them based on what kind of sire would make the most impact on each one. It was great to spend another morning with Angie and we finished the week with a lunch full of advice, tips, and tricks for the industry.
I kicked off the last week of our internship on Sunday night when I left home and went to the Sacramento airport to pick up Kayla for her first trip to California. We started the week off on an exciting note getting to go to Tulare with All West ProfitSOURCE Marketing Coordinator Wayne Glaeser and All West Manager of Communications Mackenzie Yerian to visit CalfTech, one of the most progressive calf ranches I've ever seen and learned about. We met for lunch before we headed over and got to hear about how the ranch is run and why. Calf comfort and focus on health from the moment they arrive has made a tremendous impact on the calves there. Each calf had a clean hutch and water bucket, dry grain, and an impressively clean bottle, and was hosed off to stay cool on the hot summer day. We learned about what each calf is fed from start to finish, how much, and why. This calf ranch proved how important colostrum and high-quality milk are. Visiting CalfTech changed my outlook on calf ranches and I'm grateful we got the opportunity to learn more about the science behind what they do.
On Tuesday, we got to spend the morning in the office working on a few projects. Angie challenged me to use my skills from my Excel class at Cal Poly (oh boy!) and I was able to figure out a way to show sire's performance within a herd. On Wednesday, we rode along with All West Dairy Program Specialist Brian Nelson on his sales and genetic evaluation route in Hilmar. At our first stop, we walked a pen of very friendly Holsteins to look at what sires might be a good fit for their goals and decided with the dairy producer that using All West's Optimal Genetic Pathways (OGP) program would be a good decision for them moving forward. At our last stop, we got to walk around a dairy with a fair number of DeLaval milking robots and see how they worked in the herd. Robots will never fail to amaze me!
All West Sales Representative Jake Van Vliet was our very last ride along of the internship and we got to continue visiting dairies in the Hilmar area. The Jersey genetics here are amazing to see! We assisted in moving semen inventory and got to visit another dairy with 32 Lely milking robots. It was nice to have the opportunity to compare each robot on back-to-back days and get to see how they work with both the cow and the dairy managers. The dairyman at this dairy took the time to walk us through the Lely dashboard for his operation and we learned how powerful this system can be for herd health and understanding milk production and reproduction within the herd. We also were able to better understand how colostrum is collected from fresh cows and the steps they go through on their very first milking of each lactation to set them up for milking success!
On the last day of our summer internship, we spent the morning in the office with Mackenzie, taking pictures, finalizing our last newsletters, and talking about our experiences this summer. When we finished there, Kayla and I headed back to the airport and parted ways after a fun-filled summer. It was so great to get to know Kayla and I am excited to see where we both end up in the future!
My internship with All West/Select Sires has had a massive impact on me and confirmed my interest in the genetic side of the dairy industry. I would absolutely recommend this internship to anyone and everyone. I came in with not a lot of ag background and I was able to learn a lot about how complex genetics are and how important they are to implement. I've already gone back and told a lot of my college friends to apply for this great learning opportunity.
I am so grateful for everyone who allowed me to tag along with them to learn about what they do. I also really appreciate the producers for allowing me to visit their dairies and learn while I was there. Thank you for all the encouragement and advice along the way. I have absolutely loved this opportunity and appreciate All West for having me!
2023 All West Summer Intern, Kayla Golladay:
When I last left you all, Kaycie and I had just begun our road trip from Washington into Oregon. We had no idea just how much we would get to do over the next ten days! Week 5 began back at our Burlington office. After a day of travel and introductions, we got to learn more about the billing and inventory systems and the work that goes on at the office to keep All West running smoothly. The next day Bryce Stampanoni was able to set us up to work with one of the local vets, Dr. Rama, while he did some preg checking. Kaycie and I were able to view the ultrasound via an app on our phones while Dr. Rama explained what we were looking at. We then got to palpate some of the cows to feel the various stages of pregnancy as well as abnormalities within the reproductive organs such as cysts. Later that morning we caught up with technician Scott Jakelski and followed him on his route, finishing the day by getting more practice passing cows. The next morning, we met with Bryce and Scott again to follow along on Bryce's route. We then cleaned ourselves up and loaded up for our long drive to Scio, Oregon where we would be staying with Adrienne Lulay embarking on what I refer to in my field journal as "The Big Beef Experience".
Kaycie and I got to become fully immersed in the incredibly busy life of Adrienne, starting off our first morning atop horses before helping feed cows. After grabbing what would become some much-needed caffeine, we hit the road. Our first stop was to put CIDR's in two Hereford cows. From there we continued on, breeding, synchronizing, and drawing blood for pregnancy tests on a wide variety of cattle breeds; a couple Dexter, a Simmental, a handful of Tarentaise, and a smattering of Wagyu. We ended that day breeding some Black Angus in the dark, pulling straws via flashlight. Our next day began by helping Adrienne sort some cows and calves. We placed weaning flaps in the calves' noses and then bred one of her cows that had come into heat. Horns seemed to be the theme for day two, adding Scottish Highland, Shorthorn, and Longhorn to our growing breed list. We finished off the day, just before dark this time, at the same Angus herd from the night previous. This concluded our "Big Beef Experience" with Adrienne, something I'm sure my father was pretty grateful for after my threatening to add this menagerie of breeds to our own herd of Black Angus at home.
Week 6 brought us to Tillamook, Oregon where I got to meet the cattle who produce my favorite cheese and ice cream. We met up with A.I. technician Chelsey Naito early Monday morning to follow along on her route through Tillamook County. Kaycie and I got plenty of experience passing cows and improving our heat detection skills. The next day we joined Chelsey again before hopping in with Allan Hanselman for some of his sales route where we were able to tour some really cool and different Jersey dairies. One of those dairies allowed us to add another breed, or rather cross breed, to our list as they were placing "mini cow" embryos in a few of their Jerseys. For our final day of our trip, Kaycie and I said goodbye to Chelsey and the creamery before joining Matt Jansen to evaluate cows. This was my first time practicing linear evaluations. I really enjoyed that it allowed me to get better at identifying structural issues within a cow while also seeing how a more minor issue can cause much larger issues.
Week 7 was another travel filled week for me. I began at home in the Warden – Moses Lake area where I joined Sales Representative Kit Watson on his sales route. Despite having lived in the area my entire life, I hadn't realized just how many dairies were tucked away around my small town. The next day I traveled to Sunnyside Dairy where I spent the morning helping identify cows for Ovsynch. That afternoon I traveled to Hermiston, Oregon where I met with All West Beef Large Herd Specialist Clint Sexson at the Umatilla Fair, where he is a Beef Superintendent. I spent all of the next day helping in the ring for their market show. I assisted the judges as they assessed the livestock, directing the kids and furthering my own evaluation abilities by listening as they placed classes. The next day I traveled back to the Sunnyside area where I met All West team members Brandon Boogerd, Pat Wolf, Randy Van Wieringen, and their families at their local fair. All three, along with many of the customers who were kind enough to open their dairies to me throughout my time interning, had kids exhibiting in the dairy and beef shows. I spent the day picturing the cattle and learning more about evaluating dairy cows. As someone who grew up very involved in 4-H and FFA, especially in showing and judging livestock, it was incredibly rewarding to spend my last days in these areas supporting these kids, especially those of the people who were so supportive of me the last few months.
Week 8 began with another first for me, my first time in California! Kaycie and I were joined by Mackenzie on our venture to Calftech with Wayne Glaeser. We spent the day touring the facility and learning about the growing beef x dairy industry and how their focus on nutrition and calf care has made them so successful at raising these calves. The next day we got to work with Suzi Wilson on some fun projects meant to test a bit of the knowledge we'd gained throughout our internship the last two months. For our final two days we joined salesmen Brian Nelson and Jake Van Vliet on their routes where we evaluated more cows, toured dairies, and learned about all the many benefits of robotic milkers.
I would whole-heartedly recommend this internship to anyone who is interested in the dairy or beef industry and the entire operations of a bovine genetics company. Whether it be an internship or just getting to work with any of the staff members here, there is definitely a lot to learn from everyone you interact with.
As this internship comes to an end, I want to thank everyone at All West, employees and customers, for sharing their knowledge, opening up their homes and operations, and helping to make this such an incredible experience. Every person I met offered me their contact information and made it clear that I was welcome to reach out again anytime. It is definitely a family here. I am continually grateful that I was able to be a part of it and hope to continue to build on these relationships moving forward.