Western Classic Dairy Show
What happens when you gather passionate dairy industry members, dedicated local leaders, over 200 young dairy enthusiasts, and impressive Select Sires and Accelerated Genetics sired animals? …the Western Classic Dairy Show!
The 7th Annual Western Classic Dairy Show took place in Hanford, CA at the Kings County Fairgrounds on March 3rd – 4th, 2018 with record-breaking participation. A total of 223 youth showmen exhibited 365 animals throughout the two-day show.
Judge Jerome Meyer of Sun Prairie, Wisconsin certainly had his work cut out for him as he carefully judged many large classes of livestock. Jerome currently serves as the General Manager of one of our fellow cooperatives in the Select Sires Federation, East Central/Select Sires. He commented that he was impressed not only by the quality of livestock exhibited, but also by our youth and those who raised and mentored them.
Two hundred of the show's exhibitors, ranging from 5 to 20 years of age, showed off their skills in a very competitive showmanship contest. Judge Meyer was praised by many parents and coaches for working well with the youth, as he diligently took the time to provide each exhibitor with tips on how to advance themselves in future shows. The youth of All West Territory certainly benefited from his attention to detail and constructive criticism. At the end of an intense competition, Alexandra Gambonini was named Champion Senior Showman. Alex is the daughter of All West/Select Sires Board Delegate Frank Gambonini of GamLake Dairy in Petaluma, CA.
Both registered and AOB classes continued throughout the weekend, with many stud code 7 and 14 daughters on display. Some of the highlights included cattle sired by 7HO12353 BEEMER, 7HO10999 BRADNICK, 7HO11118 BROKAW, 7HO11596 DEFIANT, 7HO12587 DIAMONDBACK, 7HO12198 KINGBOY, 7JE1088 COLTON, and more! 7HO10506 ATWOOD stole the Registered Holstein Show as the sire of both champions! Alex Gambonini was victorious yet again with her showmanship partner, APGambo Atwood Keenan, and Reserve Senior Champion went to T&R Azevedo Miley, exhibited by Aidan Azevedo of Hilmar, CA. APGambo Atwood Keenan went on to be named the Supreme Champion of the 2018 Western Classic Dairy Show!
Although the large crowd of spectators agreed that the cattle on display were nice, the real beauty of this show is the audience members themselves! The Western Classic Dairy Show is organized, executed and funded entirely by volunteers, including parents, mentors, industry members, and local businesses.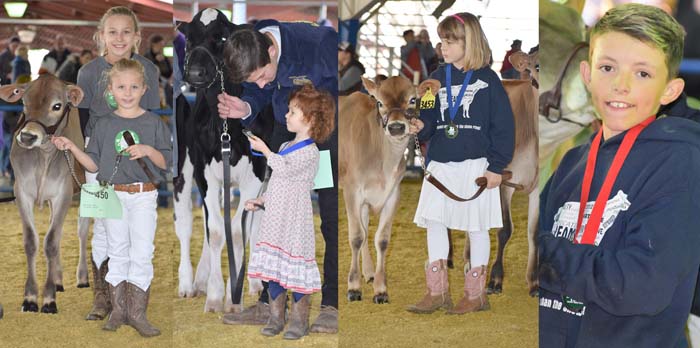 All West/Select Sires is a proud Platinum Sponsor of the show, but more important than our financial donation, is the time and effort many of our team members volunteer to making the show a success each year. Members of the All West Family serve as committee chairs, photographers, ring announcers, mentors, coaches, and parents at this event each year, all in an effort to support our youth.
We applaud those who work tirelessly to provide so many juniors such a great learning experience. There is no better way to guarantee a successful future for our dairy industry than to pass on our values and passion to the next generation!
#awssatwcd18