It was another exciting sire summary as Select Sires continues to offer the most dominant lineup of dairy sires in the industry combining elite genetics with valuable fertility. Our broad lineup of dairy sires provides our customers with outstanding genetics, along with our products and services.
With the December 2019 sire summary, Select Sires again offers the industry's most dominant Holstein proven sire lineup for genetics and fertility.
Proven Line Up Highlights….
HELIX #1 TPI bull in the breed!
ROCKETFIRE #4 TPI bull in the breed!
MYLES #7 TPI bull in the breed!
GRIFF #9 TPI bull in the breed!
DUKE #10 TPI bull in the breed!
Others just outside the Top 10…
FRAZZLED #11 TPI bull,
PASSAT #16 TPI bull,
MILLINGTON #18 TPI ​bull,
OUTSIDERS #19 and
EVEREST#20! 
That is a total 10 of the TOP 20 TPI BULLS! 
HELIX is #2 NM$ bull with EVEREST ranking #4, FRAZZLED #6, ROCKETFIRE #9! HELIX #2 CM$ bull with EVEREST #3, GRIFF #6, FRAZZLED #8, ROCKETFIRE #9! ROCKETFIRE is the #4 for Milk at +2999M, DUKE follows as #5!  Clean sweep in the Top 4 spots for pounds of FAT – HELIX #1, DUKE #2, EVEREST #3 & GRIFF #4!
JACOBY is the Top PTAT Proven bull at 3.93 PAT-RED is the #2 Red bull in the breed for NM$ and RAGER-RED is #6! PAT-RED is the #3 TPI Red bull while RAGER-RED is #5 Go view Sire Analyst Kevin Jorgensen's Facebook Live Holstein update by clicking here! Jersey Line Up Quick Stats…. 3 of the Top 9 JPI  and 7 of the Top 20 JPI active AI! Click Here to view Jersey Sire Analyst Herby Lutz's Update and overview of the Jersey program and the new Grads! To View Herby Lutz's Facebook Live Jersey update click here!  
14HO7796 GRIFF Silver x SUPERSIRE x MAN-O-MAN +1385M  +117F  +68P  +925 NM$  +966 CM$ +2.2 SCR  +.2 DPR A2A2 Bri-Bro Griff 4520-Grade, daughter of GRIFF
14HO7804 MYLES RODGERS x MOGUL x ROBUST +1718M  +69F +63P  +844 NM$  +868 CM$ +6 PL  4.6 SCE  +1019 DWP$ A2A2  Fertile-Ridge Myles 9092-Grade. daughter of MYLES
7HO12821 EVEREST YODER x MORGAN X ROBUST +1488M +61P +121F  +963 NM$  +996 CM$ +.1 SCR  +6.1 PL  +.7 DPR  +1071 DWP$ De-Su Everest 6970-ET (GP-83), daughter of EVEREST
7HO12864 INFERNO YODER x Snowman x Shottle +921M  +39P  +82F  +822 NM$  +845 CM$ +1.81 Type +2.44 UDC +6.9 PL +2.2 DPR  BB Kappa-Casein Palla Inferno 58821-Grade, daughter of INFERNO
7HO12897 SAMURI Spring x SUPERSIRE x ROBUST +850M +50P +86F  +833 CM$ +2.0 Type  +1.71 UDC  +3.0 SCR  +1.6 DPR A2A2 BB Kappa-Casein Wilra Samuri 1419-ET, daughter of SAMURI
7HO13473 ASHTON AICON x SUPERSIRE x BOOKEM +1859M  +67P  +74F  +723 NM$ +724 CM$ +1.64 Type  +1.14 UDC +1.43 FLC +915 DWP$ A2A2 S-S-I Suprsire Miri 8679-ET (EX-90-EX-MS-GMD-DOM), dam of ASHTON
7HO13454 ROCKETFIRE Josuper x STERLING x ROBUST +2999M  +92P  +76F  +937 NM$  +945 CM$  +2762 GTPI  +1.69 Type +1.47 UDC +.4 SCR  +.1 DPR  +1062 DWP$ A2A2 S-S-I Rocktfir 5033 8223-ET (GP-80), daughter of ROCKETFIRE
7HO13504 JAGUAR Josuper x MOGUL x SOCRATES +1487M  +65P  +98F  +838 NM$  +876 CM$ +1.63 Type +1.77 UDC   +.9 SCR  +946 DWP$ Plain-Knoll Jaguar 1565, daughter of JAGUAR
250HO12879 LIGHT MY FIRE Alta1stclass x MCCUTCHEN x Snowman +845M  +38P +47F  +2.8 Type +3.10 UDC  +1.02 FLC Vogue LMF Endless Love (VG-86-VG-MS), daughter of LIGHT MY FIRE
7JE5052 CLOSER IRON MAN x PHAROAH x VALENTINO +726M  +34P  +39F  +510 CM$ +162 GJPI  +1.4 Type  +16.7 JUI +2.4 DPR   A2A2 BB Kappa-Casein Goff Pharoah Circus Act-ET (EX-90), dam of CLOSER
7JE1526 SLUGGER-P Nikon-P x DIMENSION x Venerable +418M  +42P  +92F  +600 CM$ +161 GJPI  +1.7 Type  +19.9 JUI BB Kappa-Casein UR Chain 021779, daughter of SLUGGER-P
14HO725 CASINO REGENCY x Premier x Connection +180M +25P +22F  +346 CM$ +2.3 Type  +29.6 JUI A2A2  BB Kappa-Casein Claquato Fancy Casino (VG-86), daughter of CASINO
14JE1502 VAPOR BALLISTIC x Visonary x Headline +1165M  +39P  +59F  +474 CM$ +136 GJPI +2.1 Type  +18 JUI A2A2  BB Kappa-Casein
7AY104 BUCKY Oblique x BURDETTE x Lottery +718M  +34F  +214 CM$ +476 GPTI  +.5 Type Bar-Vue Burt Sara (3E-EX-90), dam of BUCKY
New Exciting Addition to the NxGEN Line Up!
7HO14859 MAXIMUS ROLAN x Blowtorch x YODER +1591M +68P  +110F  +1058 NM$  +1094 CM$ +2825 GTPI  +1.44 Type +1.99 UDC  +7.6 PL  +.5 DPR  +1264 DWP$ Pine-Tree SSI 9839 3412-ET (GP-82), Dam of MAXIMUS
Nine elite new Holstein graduates were added to the lineup.
Three of the new sires rank in the top ten on Holstein USA's, Top 100 TPI® proven sire list; 7HO13454 ROCKETFIRE (+2762 GTPI), 14HO7804 MYLES (+2730 GTPI) and 14HO07796 GRIFF (+2725 GTPI).
Six of the new sires are over +800 NM$ and three new sires over +900 NM$, led by 7HO12821 EVEREST (+963 NM$), ROCKETFIRE (+937 NM$) and GRIFF (+925 NM$).
Three of the new proven sires rank in the breed's top-13 for DWP$®; EVEREST (+1,071 DWP$), ROCKETFIRE (+1,062 DWP$), and MYLES (+1,019 DWP$).
Four of the new sires are over +150 for Combined Fat and Protein (CFP); led by GRIFF (+185 CFP) and EVEREST (+182 CFP).
ROCKETFIRE ranks in the top five of all proven Holstein sires for Milk at +2,999 PTAM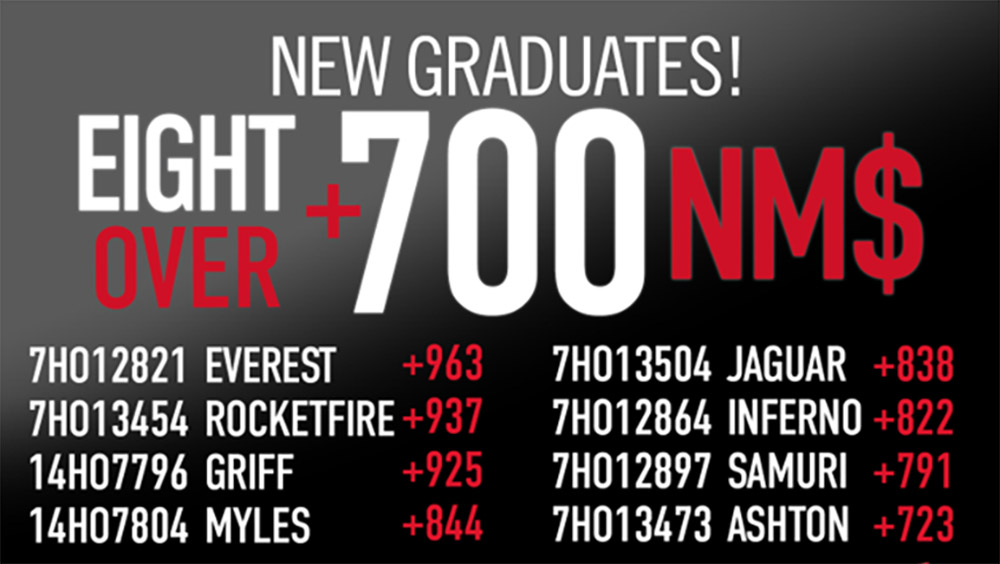 Holstein Association USA Top-Ranking TPI Sire List Comparisons
Select Sires dominates the Top 100 TPI Proven Sire list with 19 of the top 50. Five of the top ten proven sires on the Top 100 TPI List are at Select Sires with 14HO7770 HELIX (+2869 GTPI) again ranking as the top proven TPI sire in the breed!
Select Sires also dominates the 97% Reliability list with 24 of the top 50 and 53 of the top 100 sires.
Holstein Active Sire List Comparisons
Select Sires has a proven Holstein lineup that dominates the selection of elite sires in any area of genetic emphasis including NM$, DWP$, CFP, FM$, Milk and more!
With the December sire summary, Select Sires offers three of the top 10 proven sires for Net Merit, with HELIX (+1021 NM$), EVEREST (+963 NM$) and 7HO12788 FRAZZLED (+948 NM$).
Select Sires has four of the top 6 active proven sires for DWP$, with 7HO12659 PASSAT (+1,160 DWP$), 7HO12788 FRAZZLED (+1,119 DWP$), EVEREST (+1,071 DWP$) and ROCKETFIRE (+1,062 DWP$).
Select Sires has six of the top 15 proven sires for Cheese Merit $, led by HELIX (+1041 CM$).
Select Sires leads the proven sire list for PTA Milk with eight of the top 20 proven sires, with ROCKETFIRE (+2,999M), 250HO13267 DUKE (+2,849M), and 14HO7489 HOMER (+2,668M), ranking in the top 10
HELIX (+226 CFP) and DUKE (+225 CFP), are the top two proven sires for Combined Fat & Protein in the breed
Fertility Without Compromise
Select Sires continues to be the source for the broadest and best genetic selection of sires that excel in fertility in both conventional and gender SELECTed™ semen.
Our combined list of active proven, and young sires Holsteins includes 101 sires at or over +1.0 for SCR and 44 sires at or over +2.0 SCR, which is nearly double any other source. No other stud provides a broader selection of high-fertility genetics than Select Sires!
With more sires to choose from that ever before, we hope you trust All West/Select Sires to deliver the bulls your herd needs to succeed! Contact your All West/Select Sires representative for the newest information and pricing.