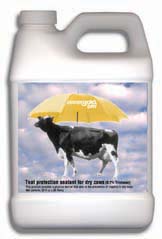 This teat sealant provides a physical barrier that aids in the prevention of mastitis in dry cows. UDDERgold Dry sanitizes with ethyl alcohol (53% w/w) and the anti microbial Triclosan (0.1%), then dries in 2 minutes into a persistent coating that remains on the teat surface 3-7 days.
Use at Dry-Off
At last milking prior to dry off, milk out cow completely. Infuse dry cow antibiotic into clean, dry teat according to label instructions. Wipe off excess dry cow infusion from teat. Dip entire length of teat into UDDERgold Dry. For added protection apply a second dip after the first coat dries. UDDERgold Dry is specifically designed not to peel off the teat in one piece and resists being peeled from the teat sinus area.
Prior To Calving
Clean teat thoroughly and wipe with dry towel. Dip entire teat into UDDERgold Dry. Dip will remain on the teat for 3-7 days. Observe daily and redip 3-5 days prior to calving. Studies prove this method provided protection to more than 93% of teats over the entire pre-calving period.
When Mastitis Protection is needed
– Antiseptic formula sanitizes teats
– Seals teat end with a single dip using cosmetic polymer technology
– Protective coating with germicide
– Proven barrier against mastitis causing organisms- Coliform & Mycoplasma
– Enhanced visual color
– Less Toxic – non-organic alcohol base
UDDERgold is a registered trademark of Ecolab. All claims,representations and warranties, expressed or implied, are made only by Ecolab, and not by All West/Select Sires.

Available in Canada
For more information and pricing in your area email us today: contact@allwestselectsires.com