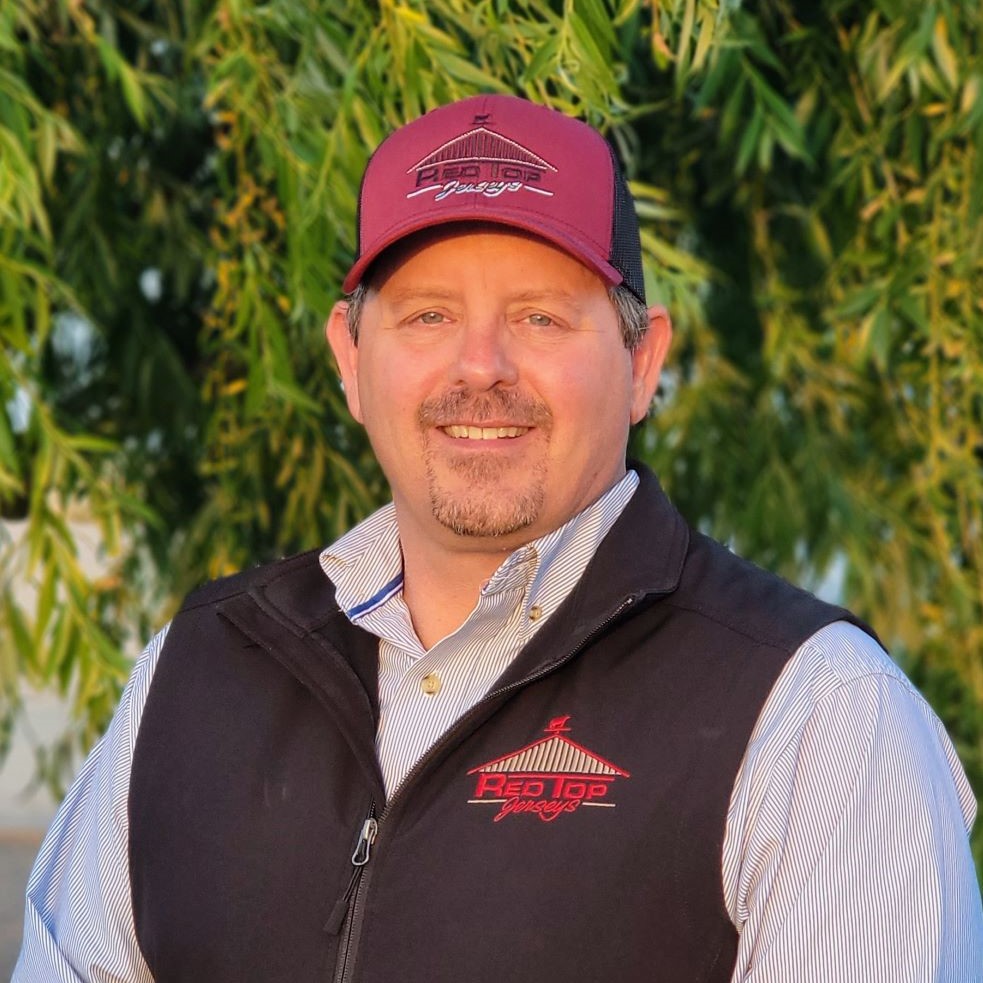 Chris Terra is our newly elected All West/Select Sires District 28 Delegate. Chris is the Manager of RedTop Jerseys in Chowchilla, California where he manages a herd of 6,000 Jerseys.
Chris has spent his whole life involved and working in the dairy industry. In 2006, the Wickstrom and Nyman families who are the owners of RedTop Jerseys, hired Chris before any animals were even on site. In 2007, he began milking 1,200 cows at the dairy and within five years, grew the herd to 5,700 cows, continued with construction of a second rotary parlor and other facilities, and made genetics his priority.
Chris' breeding strategy for the herd includes using a dozen or less carefully selected bulls at all times. "All of these bulls must represent what I feel is important for the future of our herd, while focusing on diversity in bloodlines and minimizing inbreeding.  This includes focusing on health, reproduction, components, and dollars while protecting udders. These bulls also need to get cows pregnant in order to continue being used," said Chris.
Chris is always looking for ways to successfully plan for the future of the farm. Several years ago, this led him to become one of the early adopters of the Optimal Genetic Pathways calculator to determine how to create the herd's most efficient inventory of replacement heifers. Using this program with the assistance of All West/Select Sires, Chris was able to come up with solutions to remain profitable in the changing market.
Chris is proud of the success he and his team have achieved for RedTop Jerseys. According to the American Jersey Cattle Annual Report, RedTop Jerseys is a perennial Top 5 nation-wide herd for production for registered herds over 1,500 cows. They have also received the Platinum Repro award twice from Dairy Cattle Reproduction Council (DCRC). In 2020, RedTop Jerseys was recognized by DCRC for not only having the highest pregnancy rate of over 120 dairies nominated throughout North America, but was also the largest dairy of all nominations.
RedTop has also been successful in producing several bulls for artificial insemination, who have all been marketed by Select Sires Inc. via Jerseyland Sires. "I have been doing business with Select Sires for over 40 years at our family dairy and for the past 16 years as the manager of RedTop Jerseys," said Chris. "Select Sires has a very good Jersey lineup with competitive pricing and a variety of bulls available through sexed semen."
"I feel that I have a lot of experience gained from a lifetime in the dairy industry," said Chris. "I believe I can add value to the team in this leadership role." Chris is most looking forward to meeting and working with fellow dairy producers while serving as a delegate.
Chris has been dating his fiancé, Christine, for eight years and is looking forward to their marriage. Although they live busy lives as he manages the herd and Christine works as a Registered Nurse, the couple enjoys spending time with their five adult children (Chris' two sons and Christine's two daughters and son), as well as their four grandchildren. They are all anxiously awaiting the arrival of their fifth grandchild in May 2023. When they are not with their grandchildren, Chris and Christine enjoy being outdoors hiking, hunting and fishing.
Welcome to the team, Terra Family!