"Most of our customers began their experience with A.I. in order to decrease the amount of dystocia and death loss while calving first-calf heifers. In addition to these benefits, they quickly realized the improved consistency and uniformity of their calf crops, and an overall increase in weight due purely to the age of calf. Genetic improvement came along shortly after proving an easy and quick way to select for consistent traits of importance to that producer, such as disposition, udder quality, carcass quality, altitude tolerance, etc."
– Select Sires Beef Specialist Tim Olson of St. Onge, South Dakota
7AN455 ROCK CREEK RANCHER 1495
Rancher has incredible projections in the Top 5 percent or higher for CED, BW, WW, YW, SC, Doc, CEM, Marb, $W and $B. His dam is a beautifully-designed, high-production Right Answer daughter. Rancher is bred to move your calf crop in the right direction–from Calving Ease to Carcass.
7AN525 SPRING COVE COMPOUND 12E
Compound is an elite Calving Ease sire with a lot of performance and end-product value. With an outcross pedigree Compound brings a lot to the table from every angle – maternal advantage, top growth in WW and YW and several other traits that rank in the top 25 percent and better. Use COMPOUND to improve Marbling and bring that attractive look to your calf crop. He is an ideal mating on COMRADE and Consensus influenced females.
7AN423 GAR 100X
100X delivers top 1 percent CED and Birth Weight along with major benefits for Marbling and Ribeye. He offers improvements for the cow herd traits of Docility, Heifer Pregnancy and CEM. With over 100 actual carcass records, 100X is proven to boost carcass quality.
7AN563 RIVERBEND GOOD BOOK F255
One of the highest CED bulls who excels for indexes of $Weaning and $Energy, GOOD BOOK is moderate in mature size and elite in Heifer Pregnancy making him a logical choice for low input environments. Good Book is a typical PLAYBOOK son who is moderate, big-bodied, easy fleshing with added muscle expression.
7AN368 CONNEALY COMRADE 1385
He has a reputation for proven Calving Ease genetics and useful females. COMRADE is our all-time high-selling beef bull all while his daughters are right-sized, possess a super udder design and mature into beautiful cows.
14AN448 MAF DESTINATION 423
Destination combines exceptional individual performance with an impressive phenotype. He combines two outstanding performance sires with 4925 and Upward. His data ranks him near the top of the breed on his $Values. He was a featured bull in Mogck Angus Farm's Denver Pen of Three and went on to be the high selling bull in their sale. He was one of the top spread bulls in their offering with outstanding 50K data for weaning and yearling weight.
14AN00427 CONNEALY STINGRAY 9618
Stingray is the sure fire proven calving ease sire you've been looking for. He has been proven in commercial and purebred herds throughout the country. He is a high customer satisfaction bull that has been successful in many timed AI projects. His daughters are gaining attention for their deep rib shape, easy fleshing ability, and beautiful udders – the cowman's kind. His dam stems from the famous Pow of Conanga 677 family.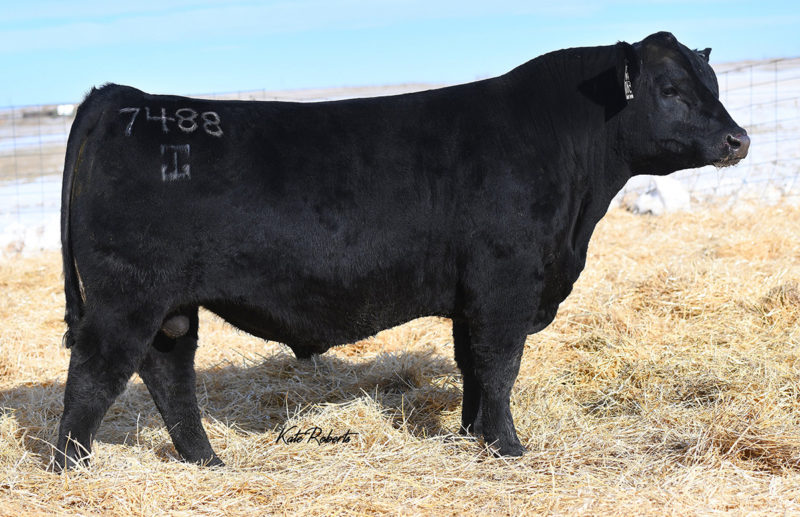 7AN580 GAR HOMETOWN
Backed by years of breeding diligence and industry experience, HOME TOWN truly brings it home. Quite possibly the one, HOME TOWN lines up below-average stature with Calving Ease, performance and elite EPDs for carcass. He offers an elite trifecta of 1's with his Method Genetics indexes and a super investment for your genetic dollar. You won't find many higher for Marbling or $Combined and backed up by generations of proof like this one. A phenoytypic standout – big-hipped, wide-based with an attractive herd bull presence all in a moderate stature.

7AN443 BALDRIDGE BRONC
BRONC has joined the ranks of a proven Calving Ease and spread bulls. He has been one of our top-selling bulls due to customer satisfaction and repeat business. His calves are born easily with extra vigor and grow rapidly with extra style and balance. BRONC exceeds his sire for frame size and captures your attention from every angle. His dam is one of the most prolific, high impact donors in the Angus breed and she stems from the legendary, stud bull producing, Isabel cow family.
7AN418 DEER VALLEY PATRIOT 3222
He has become a mainstay proven sire that you can depend on for Calving Ease, extra growth, carcass merit and superb daughters. PATROIT daughters in production are feminine, sound, and deep-bodied with good udder design and small teat size. He is one of the highest Heifer Pregnancy bulls in the entire breed! He is a Calving Ease, cow-maker sire with added growth and end-product merit, he checks all the boxes. Patriot has a proven pedigree with CAPTIALIST out of ALL IN's dam.
7AN384 CONNEALY COURAGE 25L
One of the breed's best for combining Calving Ease, muscle and moderate mature size. Courage daughters are feminine, easy-keeping, broody and gorgeous-uddered. He is a $Weaning leader that is positive for $EN and is a high customer satisfaction sire on multiple continents.