All great things must come to an end, including legendary careers! Thankfully, once you are an All West Family member, you are part of our team for life! The retirees of All West/Select Sires remain an important part of our cooperative's rich history, as well as a valuable tool to plan for the future.
In celebration of the All West/Select Sires 80th Anniversary this year, we're catching up with some of our "All West Legacies" and providing you with an update in the form of their responses to seven simple questions.
We recently chatted with Mr. Ken Haak to learn what he has been up to!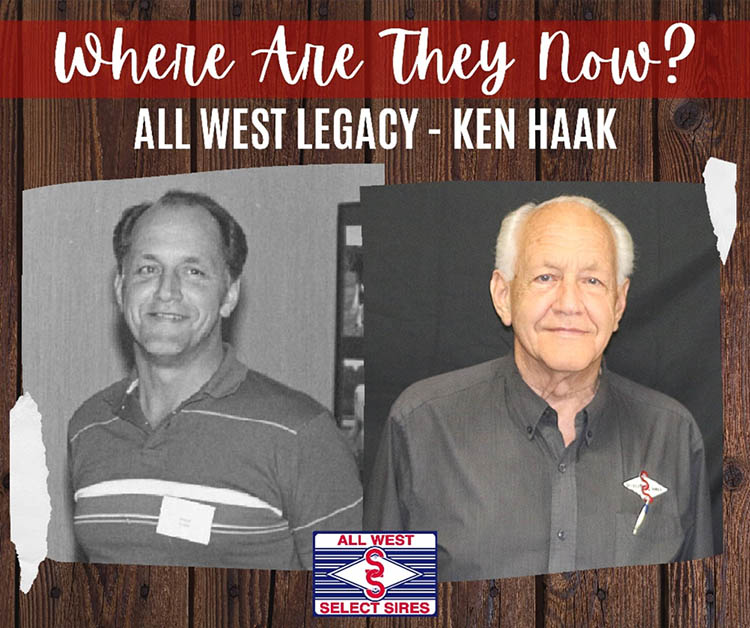 1. What years were you employed by All West/Select Sires?
"I worked for All West for 47 years, from 1968 to 2016."
2. What position(s) did you hold?
"I started working as a technician in Whatcom County. Then, when Ray Reuble retired, I took over his position as a Sales Representative and did that the last 13 years of my career."

Lanny Kipp and Ken Haak representing All West/Select Sires at a tradeshow booth
3. Who is your favorite bull of all time?
"When I was milking my own cows, 7HO401 MARS and 7HO5157 DURHAM really impressed me, but as an all-around bull, I would have to say 7HO11314 MOGUL was my favorite. The influence he had on generations of both cows and bulls was unbelievable."
4. What was your greatest achievement as part of the All West Family?
"As far as recognition, I was awarded Technician of the Year by Select Sires Inc. in 1987, which was pretty neat. However, my main achievement was helping farmers. Breeding cows was even more rewarding than sales because I worked with those herds every single day and as a result, I became part of each herd owner's family. I had the pleasure of watching as many as four generations of dairy producers grow up and run several operations!"

Ken Haak with customers and friends Dick and Ruby Bengen of Ruby Ridge Dairy in Pasco, WA
5. What is your favorite All West memory?
"My favorite memories involved the team members and farmers I worked with. For three or four years, Herald Catlin took me on beef breeding projects in Oregon. Those were definitely the most interesting experiences I had breeding cattle and was also the extent of my beef breeding experience. I also had the pleasure of working with and for almost all of the General Manager/CEOs who have ever led All West/Select Sires, including Archie Nelson, Herald Catlin, Jim Wells, and now Rory White."

Ken Haak and former All West/Select Sires General Manager/CEO Jim Wells
6. What keeps you busy these days?
"My wife and I keep very busy with our 26 grandchildren and 27 great grandchildren! I also still work with several herds once a month, mating cows and picking bulls for them. Being able to be as old as I am and still able to work with cattle regularly is something I hope to continue doing!"

All West Sales Representatives Kelby Stadt and Randy Van Wierengen with Ken Haak
7. What are you currently looking forward to?
"COVID being over! My wife and I would love to begin traveling more often again, once we are able to safely."
To learn more about Ken Haak's legacy from the legend himself, click here to watch and click here to read!