All West/Select Sires was a proud sponsor of the first-annual Western Dairy Showcase and we enjoyed snapping photos at the event! Exhibitors can view all of the photos we took and download as many as they would like here.
It was a clean sweep of Select Sires success in the Registered Holstein Show!
Photos by Cowsmopolitan
Grand & Supreme Champion
Hilmar Jacoby 14807-ET, 1st Junior 3-Year-Old
Sired by 250HO12589 JACOBY | Exhibited by Madilyn Parson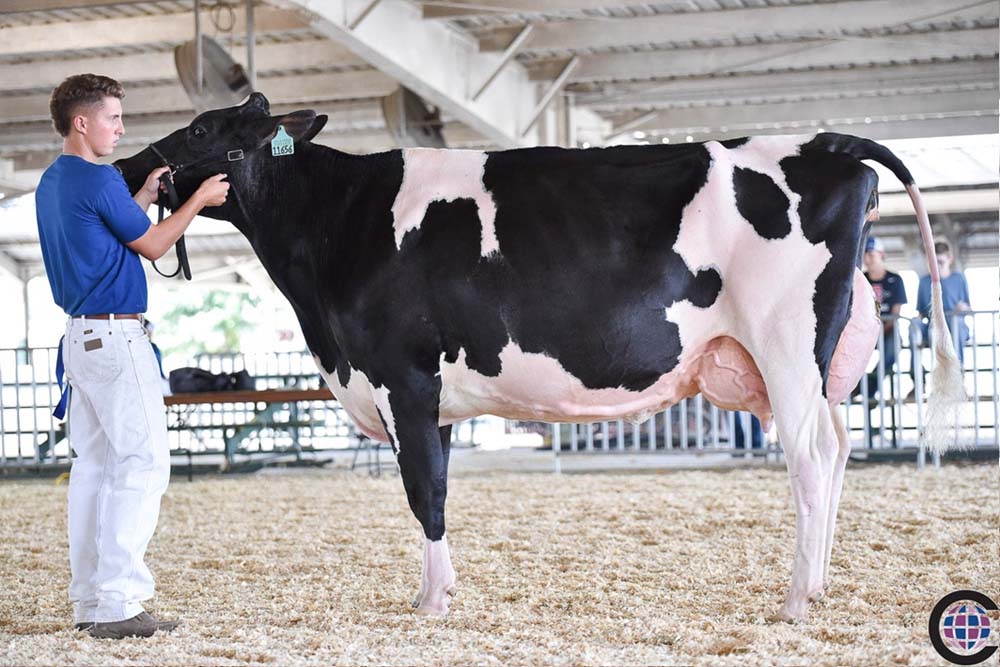 Reserve Grand Champion
Luck-E Doc Awuki-ET, 1st Junior 2-Year-Old
Sired by 250HO12961 DOC | Exhibited by Aidan Azevedo
This excellent 7HO10506 ATWOOD daughter is 10-years-old, has had seven beautiful calves, and was still showing off! Gamlake Atwood Christa was named 1st Aged Cow and HM Senior Champion. She was exhibited by Blake Zimmer. Congratulations!
Pee Wee Showmanship is always one of the most anticipated events!
Showmanship Judge Rich Silacci did an excellent job providing feedback to exhibitors of all ages.
It's always fun to see the name of a Select Sires bull in the ear tag of an impressive class entry.
There were many familiar faces at the Western Dairy Showcase to help make the event a success! All West General Manager/CEO Rory White assisted exhibitors in the show ring while Mackenzie Yerian took photos for the event.
These smiling faces cheered on their friends! Pictured here is All West Sales Representative Greg Silva and his girlfriend, Emmy, All West Dairy Program Specialist Carly Olufs and her mom, Paula, and boyfriend, Mike, and friend of All West, Matt Evangelo.
Technician/Dealer Mike Parreira and his wife Danielle supported their daughter, Summer, while showing several of her heifers and cows.
Thank you to Judge Thomas for traveling from Ohio to judge this first-annual youth show!
Mark your calendar for next year's Western Dairy Showcase taking place in Turlock, California on October 13 – 16, 2022!