All great things must come to an end, including legendary careers! Thankfully, once you are an All West Family member, you are part of our team for life! The retirees of All West/Select Sires remain an important part of our cooperative's rich history, as well as a valuable tool to plan for the future.
In celebration of the All West/Select Sires 80th Anniversary this year, we're catching up with some of our "All West Legacies" and providing you with an update in the form of their responses to seven simple questions.
We recently reconnected with Mr. Fred Jorgensen to learn what he has been up to!
1. What years were you employed by All West/Select Sires?
"2000 – 2019, and prior to 2000 I was a relief breeder for All West/Select Sires Technician, Bob Sexson."
2. What position(s) did you hold?
"I started as a Relief Technician for Bob Sexton and then became an SMS Evaluator/Dairy Program Specialist/Sales Representative."
Fred is humble and failed to mention, he was also a dairy producer himself, a Holstein classifier, the breeder of a successful bull in the Select Sires Beef lineup, and even a college professor!

3. Who is your favorite bull of all time?
"7HO58 Round Oak Rag Apple ELEVATION. Cattle are certainly better today, but he was the best bull of his time. He could improve cows from 78 to 87 points in one generation!"
Fred and his wife Toni raised a very successful herd of their own beef cattle at home in Orland, CA. Their most notable achievement has been 7CH95 FTJ CASCADE 1508, a high performing, attractive bull purchased from them by Select Sires Beef.
 4. What was your greatest achievement as part of the All West Family?
"I was successful at being a low-maintenance employee, which was always one of my goals. I just enjoyed getting my job done and serving my customers."
 5. What is your favorite All West memory?
"There were so many great memories over the years. I suppose my fondest memories were during the years when All West was a much smaller cooperative and the camaraderie shared amongst coworkers and customers."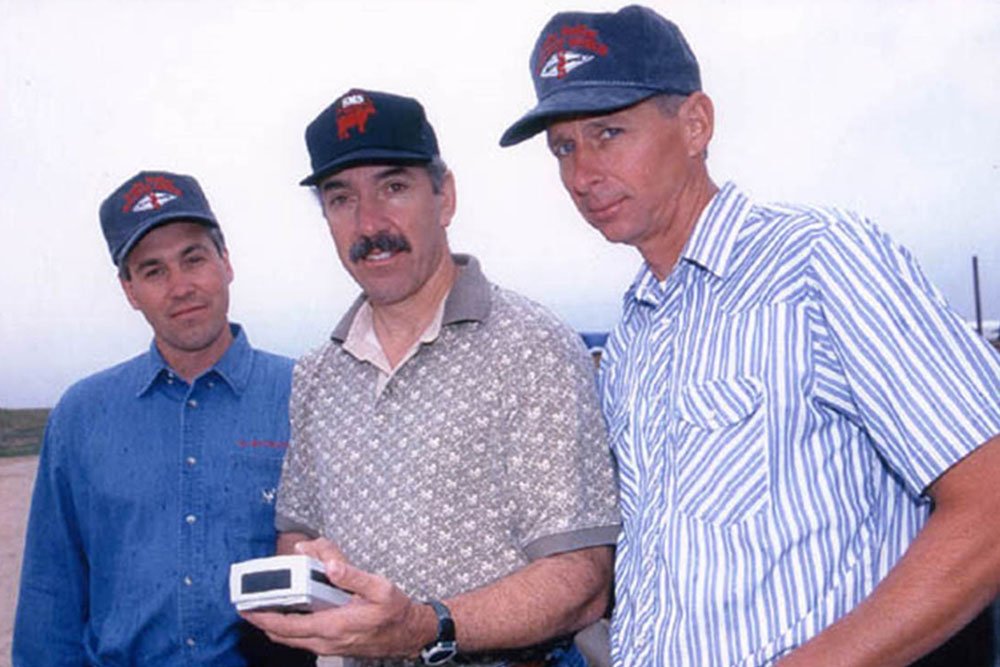 Select Mating Service (SMS) Specialists Rudy Kaderly, Bill Van de Graaf, and Fred Jorgensen in 1999

6. What keeps you busy these days?
"Twenty years of deferred maintenance on my own hobby ranch while I was making a career taking care of my customers! I am generally doing the same things I've always done and certainly not enough hunting and fishing."
7. What are you currently looking forward to?
"I am looking forward to getting some projects done on our ranch that will make things easier and allow us to do what we love longer. After that, and when my grandkids get a little older, I look forward to taking them hunting and fishing."
Fred Jorgensen receiving his All West/Select Sires Legacy Plaque from All West General Manager, CEO Rory White.
To learn more about Fred Jorgensen's legacy, click here!